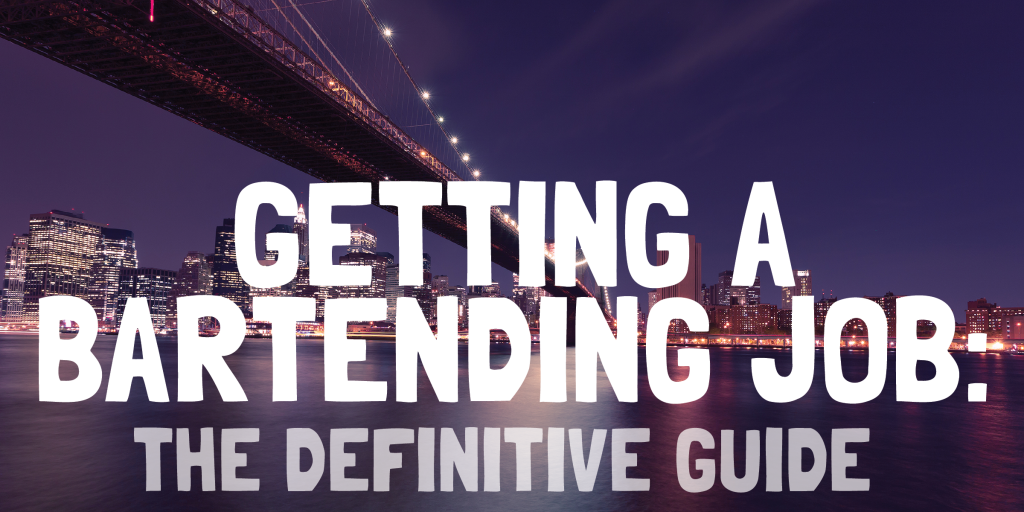 If you are interested in getting a job bartending in NYC, I'm sure you've read your fair share of articles about bartending schools in NYC, or how to painstakingly work your way into the industry as a busboy. You might have also wasted hours applying online for bartending positions from job board postings that were dead ends. Well, today you are in for a new approach to becoming a bartender in NYC.
Let me start with a quick story. One of our students moved to New York and wanted to become an actor. After a few months of going to non-stop auditions, he quickly realized that NYC is more expensive than he had planned. He had to make some cash in a job that would keep his days free for auditioning, so his first choice was bartending. After reading a ton of articles online and talking to a few bar managers, it was clear to him what he needed to do to get a job bartending in NYC.
Here are the steps that he took to get a job bartending in NYC. It took him about 3 weeks, and if you follow these steps very closely, you should be able to do the same. With these steps, you will instantly maximize your amount of bartending job opportunities in New York City. These are the tried and true steps after working in the industry.
---
1) Create a business card for yourself to show that you are serious
This is super simple. Go over to Vistaprint.com and create a business card. You can get 100 for $16 plus shipping. Choose one of their designs that you like and be sure to include your name, cell phone number, and email address. It is also very important to give yourself a title.
I went with "Bartender/Mixologist". This covers both bases and will keep your options open.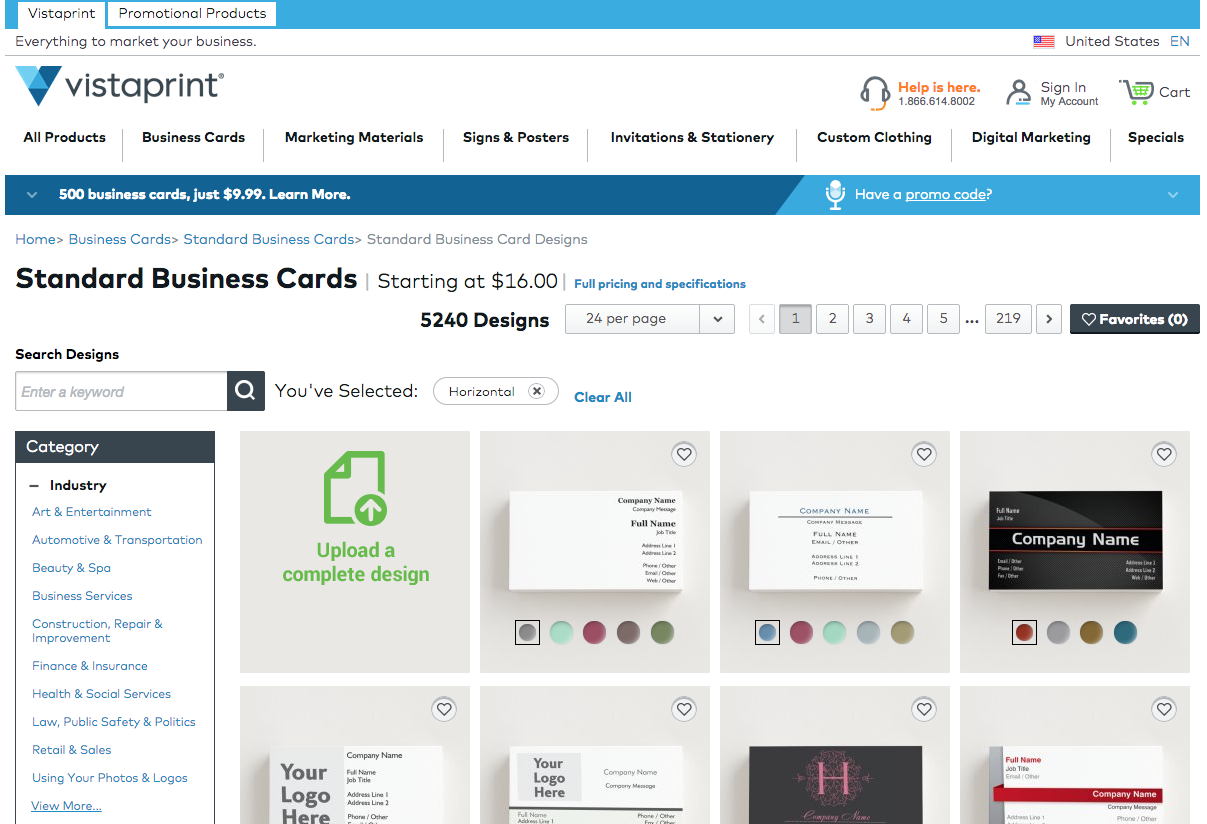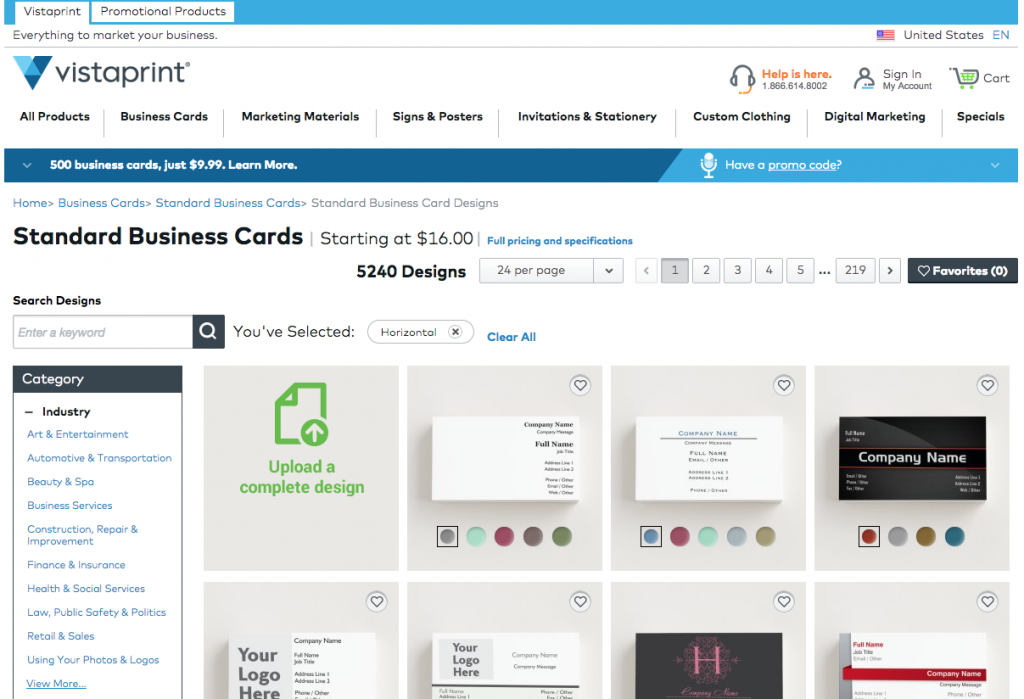 Now, to be fair, just having a business card isn't going to do it for you. You need to have a personality behind your card or it won't make a lasting impression. It will just end up in the pile. Spend some time talking into a mirror if you have to. Learn some jokes. Bar owners are in the market for personality as much as they are a qualified bartender. But – a business card is an important piece nonetheless.
2) Create your EYE-CATCHING Resume – Include these words in your resume will instantly boost your credibility
Rarely will your resume be the only reason a bar manager hires you. But, there a few tricks to improving your resume that will instantly grab am employer's eye. These are the same words you will mention in your interview.
(Remember them easily with this C.U.P.)
– Control the bar – Your ability to control the bar and expedite in an orderly fashion will keep customers (and bar managers) happy.
– Upselling  – Upselling according to Wikipedia is "a sales technique whereby a seller induces the customer to purchase more expensive items, upgrades, or other add-ons in an attempt to make a more profitable sale."
So in bartending, this is the art of getting customers to buy something more than they ordered. For instance, if a customer wants a well-drink (the cheaper, lower-quality liquor), you would try to upsell them a premium or super-premium liquor product (also known as 'top shelf'). Or when a customer orders a drink, you would mention the fact that your bar has a kitchen and maybe they would like a hamburger or fries. Or – if it's late in the night, let them know that the kitchen is 'closing soon', which will instill a sense of urgency.
This is something that you will learn in any bartending school, especially the bartending schools in New York. It is a nuanced approach that, like any sales approach, will come off as forced if you don't do it right. PAY ATTENTION IN CLASS TO THIS ONE!
– Pour Cost – Being aware of the pour cost shows your employer that you will NOT over pour drinks. That means less money going down the drain (literally.)
Here are some examples of creating a resume for a bartender if you need some help.
3) Time for some research 
According to the US Census Bureau, there are over 2000 bars in NYC in 2012. There are over 16,000 restaurants. Most need bartenders. A quick Google search will show you bars in your area. Begin to a compile a list of every/all bars and restaurants that you see.
Example: Go to Google Maps and type 'bars'…all of those red dots are bars!!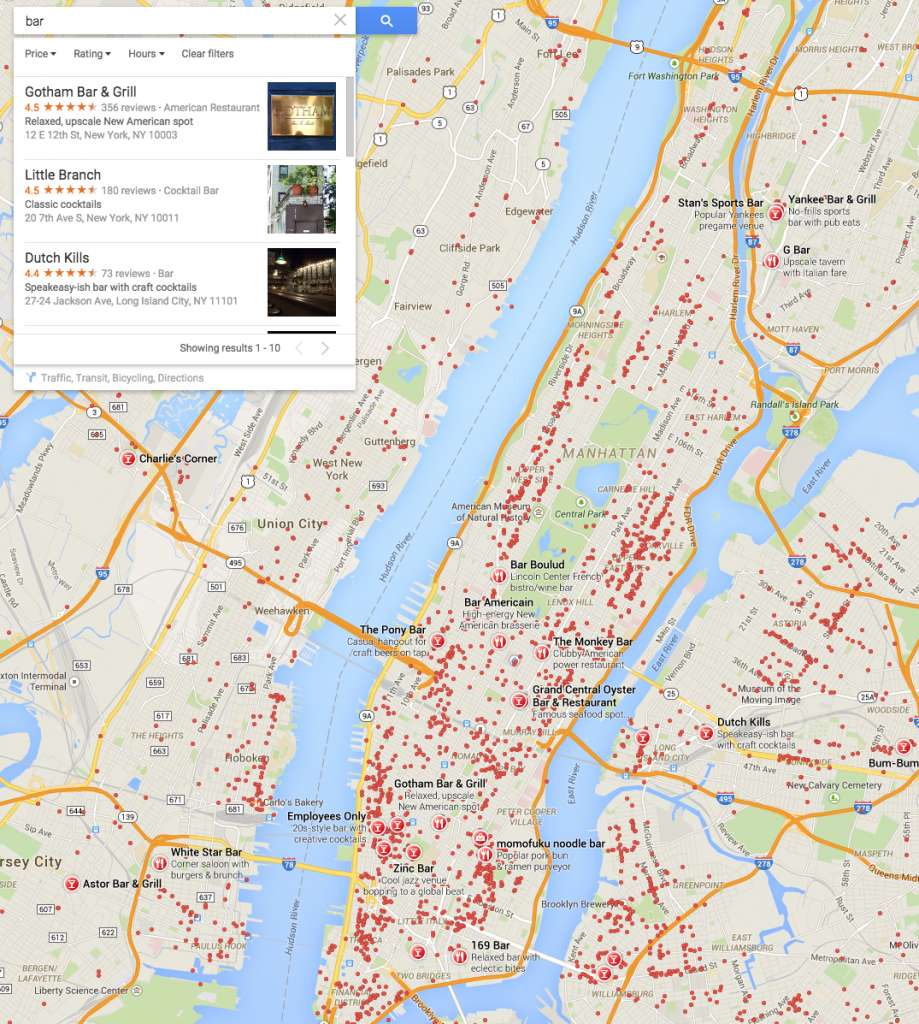 4) Favorite Venues List
Time to breakdown your list. First are going to be all your favorite venues. This is where you are going to list all of your dream jobs. These are your favorite venues that you would absolutely kill to work at. This is going to be doing your first interviewing and where you will be on your 'A' game. List at least 25-30 to get started.
5) 'Just Fine' Venues
These are your venues that you are just so-so about. Remember, if you are serious about that, you have to be persistent and make some sacrifices at first. This means you might have to get a job at a bar that isn't your favorite right away. But – it's still a job, and trust me, it will lead to other jobs.
6) Never in a Million Years Venues
This is your list of venues that you think you will never, ever have a chance at getting a bartending job at. My process only works because you are going to leave no stone unturned. You might have left these off because you thought that they were too out of your reach. But – these might just be the bar that is looking to hire you. For example, these are some of the hottest bars in NYC.
The Grand Havana Room

Pacha

Pink Elephant

Marquee

Cielo

1OAK

Pegu Club
LEAVE NO STONE UNTURNED!
7) Under the Radar – These are other venues that have bars that you might not have thought of
After visiting your bars, you will want to diversify your portfolio and head out to some different venues that desperately need bartenders, but they just might not be as sexy as working in the Meat Packing District. Some are touristy spots, others aren't.
Here is a quick list:
NYC Water Taxi
Grand Central Station
Circle Line Cruise
Intrepid
Catering Companies: Restaurant Associates, Great Performances
Central Park
Citifield
Yankee Stadium
Barclays Center
JFK / LGA
Hint: a Google Search for 'Catering Companies in NYC' yielded 660,000 results. There are tons of bartending job opportunities in those results!.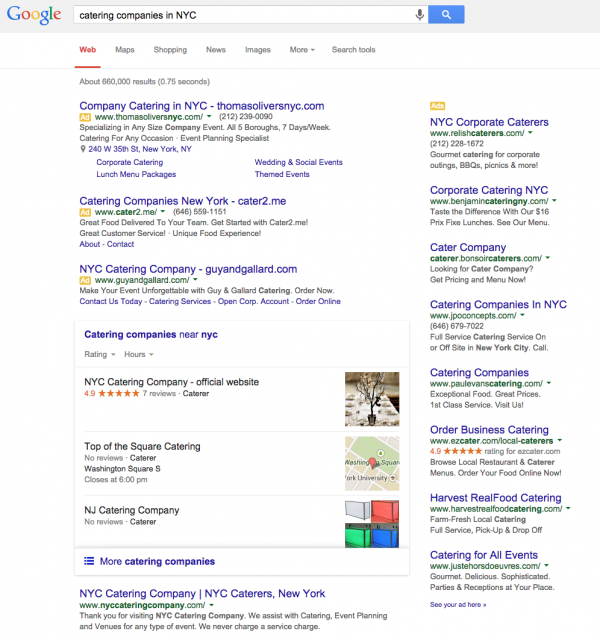 8) Learn how to bartend from a Professional Bartender at a Bartending School
Learn from a professional. I can't stress this enough. Once again: To become a bartender in NYC, you will need to go to a bartender school in NYC! Sure you will learn things on the job, but an employer wants to hire someone who is prepared and can hit the ground running, the less time they have to spend training you, the more attractive you appear as a bartending job candidate, even if you have no experience. And the quickest way to get some bartending experience is by going to a bartending school. There are plenty of bartender schools in NYC, but I went to American Bartenders School.
This is obviously where you will learn how to create all the drinks you will need on the job. I don't want to waste a step explaining the importance of learning cocktail recipes, because any school you go to will stress this. However, aside from learning drinks, there are nuances to controlling your bar and the crowd that you would never learn without having a professional explain it to you.
Plus, it's extremely easy and quick – The class is only two weeks and can set you up for a lifetime's work in bartending in NYC (and if you make it here, you can make it anywhere…). Compare that to other trade schools and it doesn't even come close to the amount of time you'd spend learning a craft.
Remember, there is a lot more that goes into being a bartender than just making drinks.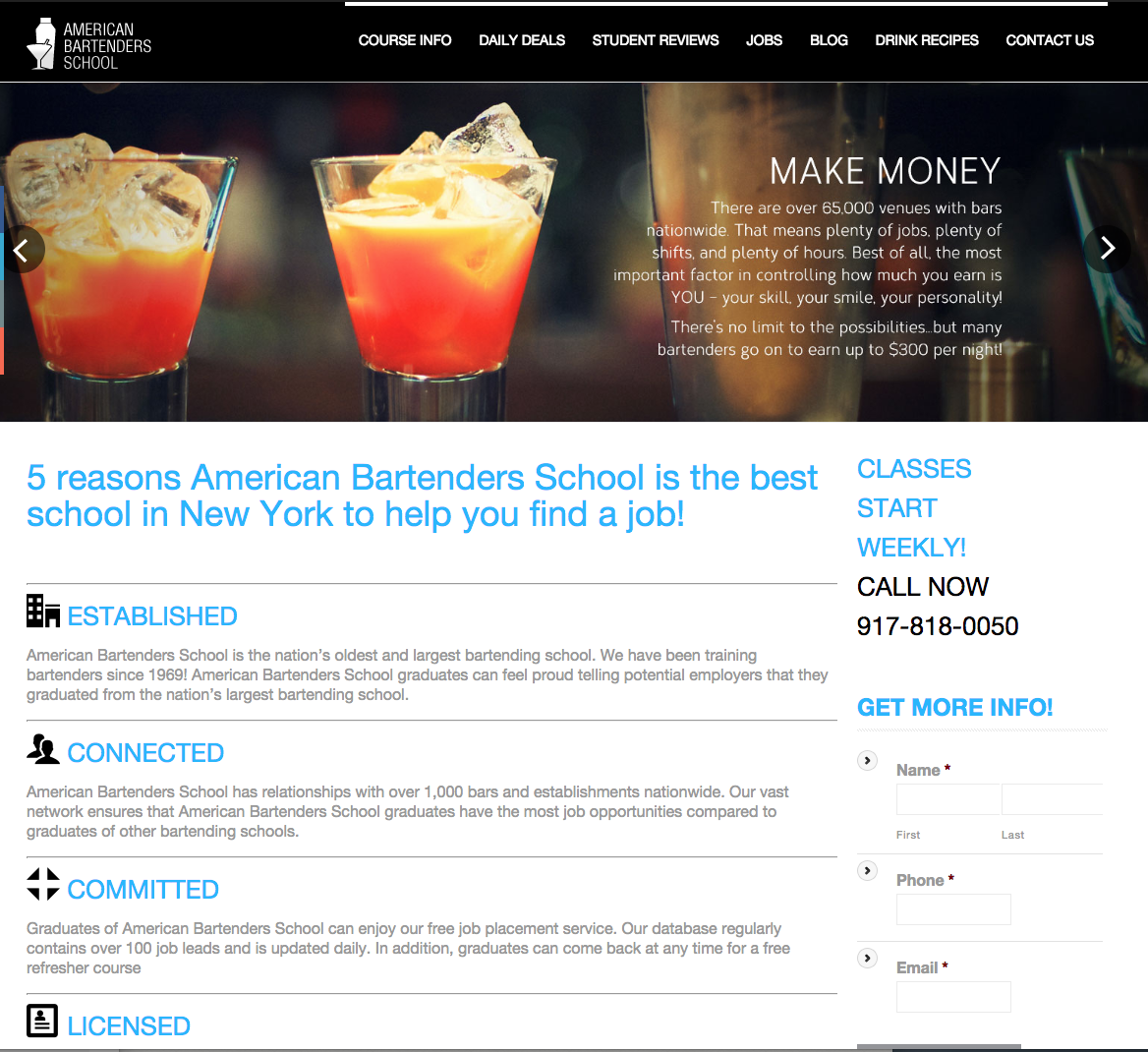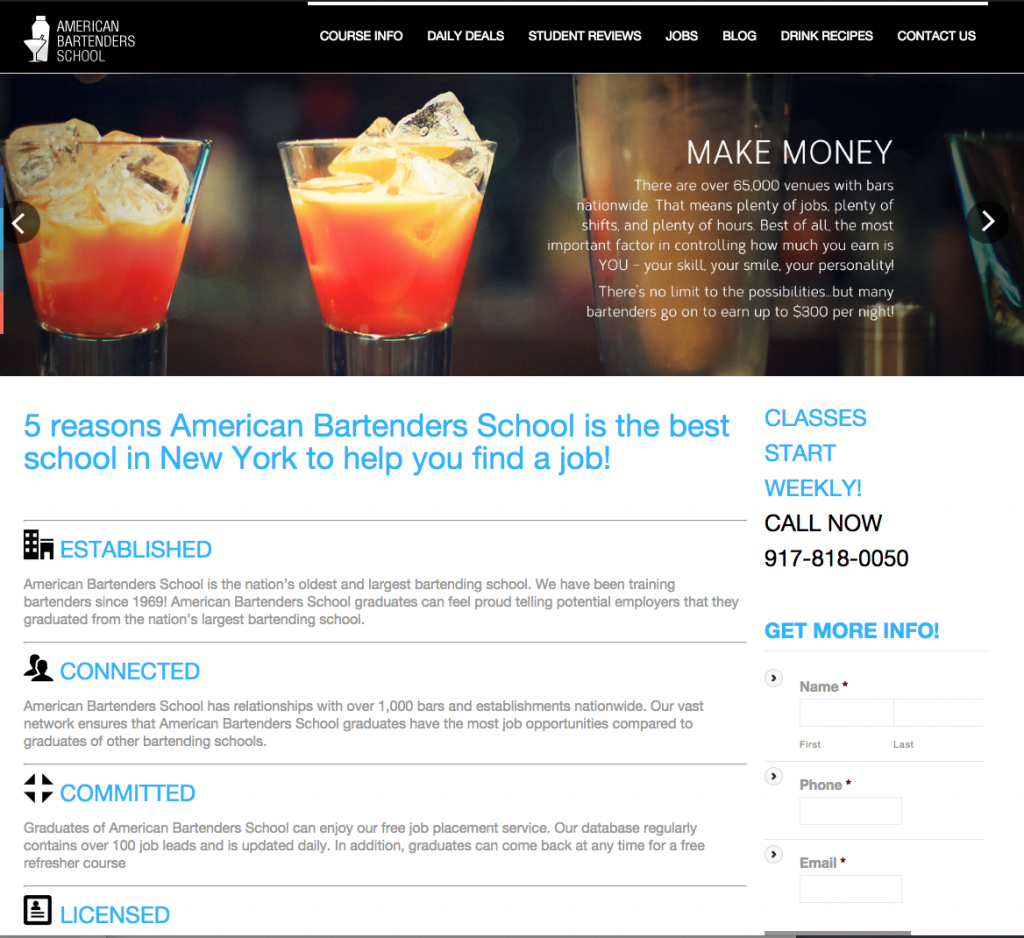 9) Be a chameleon when you hit the bars
Like it or not, fashion is very important in NYC! Wherever you decide to apply, you must do a little bit of quick reconnaissance before dropping off your resume and/or going in for an interview. If you see the bartender wearing a shirt and tie, you must mimic them. Get to know the styles of the people who work at the bar. This has backing in science and is known as mirroring. As Forbes says it, mirroring correctly could increase your chances of getting a job. This takes some practice or it could come off as arrogant – so brush up on your mirroring!
For a slightly toned down version of mirroring use these steps:
Step 1. Head to the bar and size up the bartender's fashion
Step 2. Order a drink and compliment them on their shirt/pants/tie, whatever and ask where they got it.
Step 3. Go buy a similar shirt, tie, etc
Step 4. Wear this when you return to the bar to drop off your resume and/or interview
10) Buy a Note Pad- Look prepared!
This is more of an interview technique but I think it is important to mention. If you are like me, you have millions of things flying through your mind at all times. It is hard to keep track when theres so much going on. You need to be prepared for an interview for the next stage, so it is important to look the part and come with the proper tools. It is great to take notes during an interview because it
1) allows you to keep track of all of the details &
2) shows that you pay attention to detail.
This will also come in handy for the follow up email/phone call. HINT: Grab a moleskin notepad – they look very professional.
Set up each page and gather the following at each of bars you visit…
Bar name:
Clientele:
Bartender
Name/number/email:
Manager Name/number/email:
You might not get all of this contact info but you'll need at least a number or an email. You need to be able to contact them later.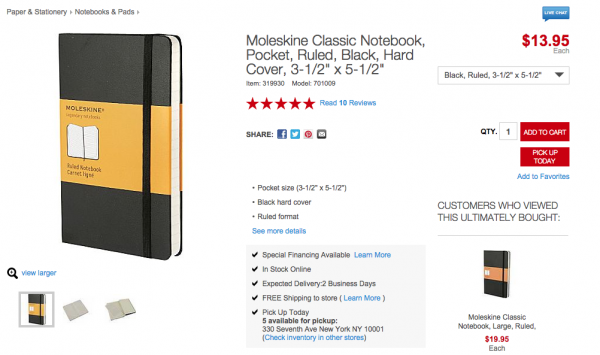 11) The 10 bar Rule – Be persistent and go introduce yourself to at least 10 bars per evening 
This is important. You must be persistent. This job isn't going to be handed to you. But you've come far already. The most important part now is getting your face, business card, and resume out there. This will play out differently at each bar, but for starters, I gave myself a step-by-step process to follow at each bar. This is where we tie all the previous steps together.
Get to the bars at a slow time- say 2pm-4pm
Talk to the bartender about the bar- learn what you can about the history, the type of clientele, etc. This is where you will learn some specific details that you can then use later when talking to the manager. (This isn't 100% necessary but it will help connect with the manager.)
Example: If they tell you, "we mainly get an older crowd who orders traditional cocktails", then you will be telling the manager that you are best at making traditional cocktails and you are really looking to work in a bar where they appreciate the classics. Jot this down in your notebook later.
Ask to speak to the manager (If they are available, then it is time for your impromtu interview. If not, get their contact info)
Talk about your skills – mention the C.U.P. Remember this from earlier – Controlling the bar, Upselling, Pour Cost. Talk about the details that you learned from the bartender.
Get names, emails, and numbers of whoever you can at the bar
You will gain more confidence with each bar you visit and it will become easier and easier. By the third bar I felt like I was truly selling myself and my strengths to the bartender.
12) Follow-Up! 
This is why you got names and numbers in step 5. Now it's time to follow up and keep top of mind for these people. Use a variation of the following email: Hello [Name of person you met],
Thanks so much for taking the time to speak with me yesterday. I would love the chance to come work for you at [bar name]. Furthermore, please feel free to contact me if [BARTENDER NAME] is ever out sick or if you need a last minute sub. I'd be happy to come help out.
I look forward to hearing from you. Please give me a call at [your number] at your convenience.
Best,
Dave
13) Follow Through!
Here is where you must shine. First impressions are the most important. If you've made it this far, you will know that you have to be on time and be dressed for success.
– Iron your shirt/clothes
– Arrive 30 mins early
– DON'T DRINK ON THE JOB! This may sound like a fun part of it, and I'm sure you've run into your fair share of bartenders who do this, but for the first few months, don't touch it.
You've worked this hard- you don't want to blow it!
Be prepared to start working up the chain. If this job isn't your dream job, then put in the hours and get the experience that another bar might need to see on your resume. Not all bars are initially going to give you the best job with the best hours. You need to be willing to work a little, but it will pay off!
14) B.Y.O. Wine Key: Tools for Success
The real tools that you need for success are dependent on the type of bar. If it is a high-end restaurant where you will be doing a lot of complex mixology, you will need more tools than if you work at a beer bar, you won't necessarily need tools like a muddler. A few quick recommendations after working on the job for any situation. These tools will make you seem like you know what you're doing and also help you keep the job after you get it:
1. Wine Key: sometimes called a waiter's tool, this is a two in one bottle opener and wine opener (with blade). Stay away from the bulky or wooden handle ones because they are usually way too expensive. You want a simple, double-hinged wine key. $2-5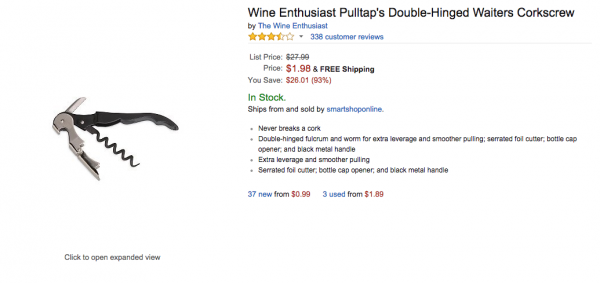 Buy a wine key from Amazon.
2. Bar Blade: slim, simple, fits in your back pocket. $5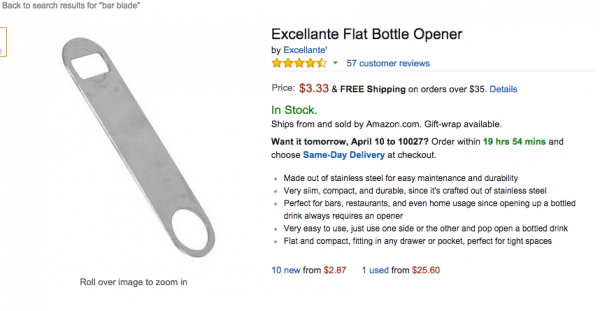 3. Full mixing set: $60 If you are feeling like you want to impress your friends or perhaps brush up on the skills you learned in Bartending School, you might prefer to get a whole kit.
I got this bartender 24 pc mixing set from eBay here: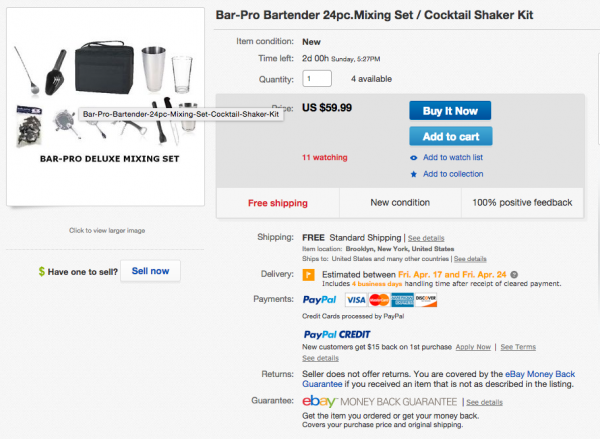 15) Recap the Top 25 cocktails…
At this point you will have learned everything you need to about drinks. But did you remember the important stuff? A two-week intensive class at a bartender school in NYC is just what it sounds like…intense. Which means there is a chance that some stuff will fall through the cracks.
So, make sure you keep these 25 cocktails top of mind. The rest will fill out as time goes on, but these are the most important.
Here are the TOP 25 that you will have to know going into any bartending gig:
Old-Fashioned
---
At this point, you should be on your way to getting some interviews. Like I said earlier, it took me 3 weeks. The hardest part is definitely being persistent and forcing yourself to get out to 10 bars in a night. This can be fun if you are drinking, but you will end up looking unprofessional if you are wasted while talking to a bar manager.
So – drink responsibly! The author of this post wishes to remain anonymous. For any questions or concerns, please contact us at [email protected]
---
Have any thoughts or suggestions? Did this work for you? Please let us know! Email at [email protected]