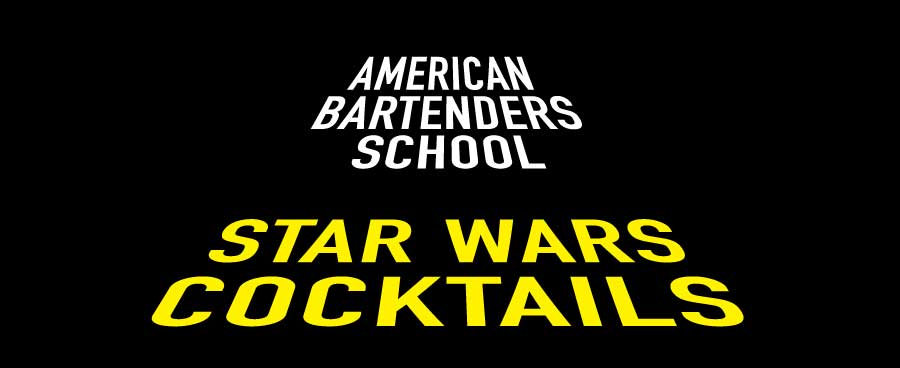 Finally, the newest installment of the Star Wars saga is upon us. We have decided to bring together a great list of the most famous Star Wars cocktails from around the web. If a Star Wars Cocktail themed party isn't your thing, head over the New Years Eve Cocktail Guide, and throw the best party ever!
We've got it broken down to the Heroes, like Luke, Yoda and Princess Leia, Smugglers Han and Chewbacca, Villains Darth Vader and Boba Fett, and some of the great spaceships!
Give in to temptation and try all of these amazing Star Wars Cocktails. If you really want to learn how to make a great cocktail and become a great bartender, you'll need to go to school, so sign up for classes today. 
The Star Wars Cocktails: Heroes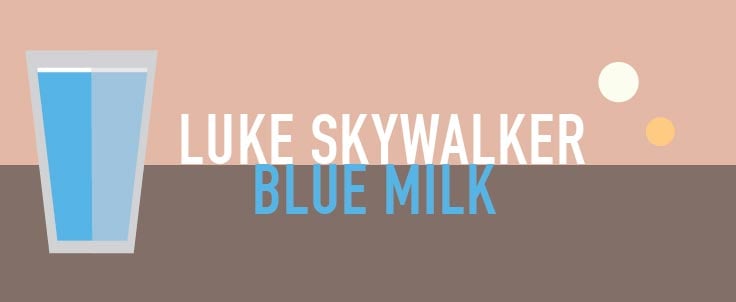 LUKE SKYWALKER'S BLUE MILK
For true die-hard fans of the Star Wars movie, this first cocktail is a real tasty treat. For the uninformed, there is a part of the Star Wars: A New Hope, where Luke Skywalker can be spied drinking what looks like a blue milkshake. (For the ultra-nerdy, this is actually Bantha milk.) This drink has been idolized, spawning Star Wars Fan websites, like Spoiled Blue Milk and Star Wars web comic Blue Milk Special.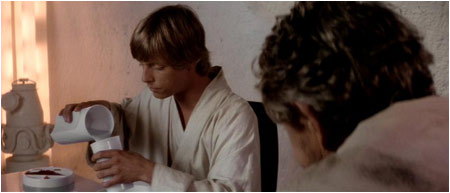 Part milkshake, part booze, this blue-tinted cocktail (thanks to the Blue Curacao of course) will make you feel like you are back home in Tatooine. Seriously, this drink is dangerously good.
3 oz of milk
1 oz of cream
1 oz of coconut rum
1 oz of amaretto
2 oz of blue curacao
Combine all ingredients in a shaker with ice and shake for 20-30 seconds until chilled. Serve in a chilled glass.
According to Castles and Cooks, who came up with this amazing recipe, "the almond and coconut flavors help reduce the orange flavor and create a sweeter drink that is a lovely shade of blue."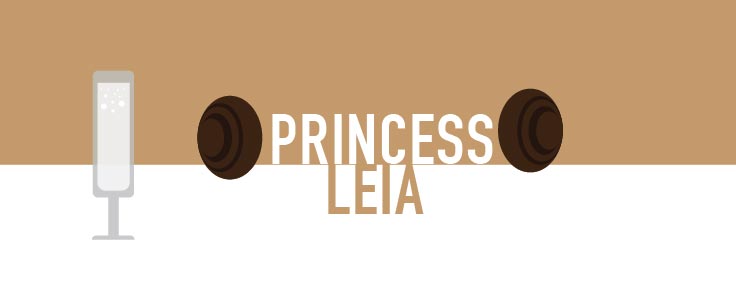 PRINCESS LEIA
The Princess Leia cocktail is known as a champagne cocktail. Although it has nothing to due with her famous cinnamon-bun looking hairdo, it is a great drink for brunch or a cocktail party. Combining the sparkling wine with gin and liquor gives it a light, refreshing taste. The Princess could have used one of these after watching her planet get destroyed.
1/2 shot Bombay Sapphire gin
1/2 shot VeeV Acai liquor
Champagne
In a champagne flute, add the VeeV and Sapphire, stir, then top off glass with your sparkling wine or champagne of choice.
This one is courtesy Nerdbastards.com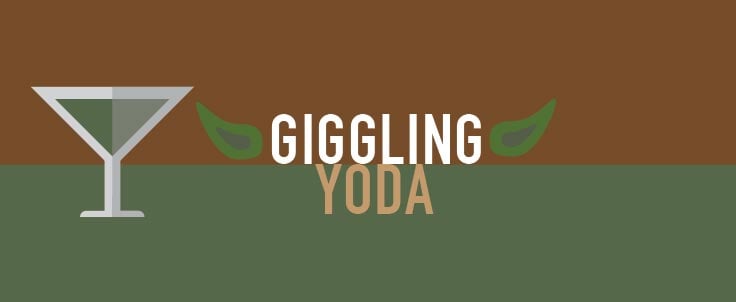 GIGGLING YODA
This drink has unfortunately won the title of One of the Most Disgusting Cocktails Ever. The reason is that you mix a bunch of green fruit in a blender, then mix it with bubbly ginger ale. The green fruit mix is no more disgusting than a Kale Smoothie, but to those who don't frequent the juice bars often, this one can be a bit of a shock.
However, this is a great tasting drink, and because of all the fruit, one could make the case that it is good for you. So, if you are going to drink it, go ahead, but don't go half way on this. Remember, as a giggling green monster once said "DO OR DO NOT, THERE IS NO TRY."
• 1 oz. vodka
• 1 can Ginger Ale
• 1/2 a pear (cored and peeled)
• 5-6 green grapes
• 2 tsp. lime juice
• 1 sprig of mint
Blend all of the fruit and mint in a blender. Pour the vodka in a martini glass and then pour the blended fruit over that. Top if off with Ginger Ale!
Thanks to Drinking In America for this one.
The Star Wars Cocktails: Smugglers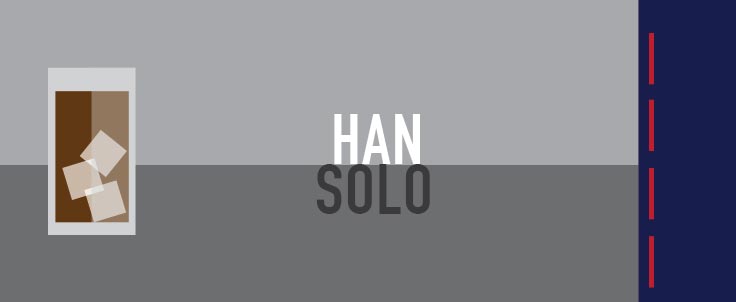 HAN SOLO
There is a lot of confusion on whether or not Han shot first. Recently, pop singer Ariana Grande came out with a video clearing up the matter. There are endless debates raging online for years ever since the first Star Wars Movie appeared. There is even a Wikipedia page about it.
With this cocktail, you can shoot first. Shoot – have a shot – of alcohol – get it?
In fact, you take it one step further and drink the Han Solo out of a blaster rifle! That's right, a company, If Industries has created Star Wars themed drinking flasks.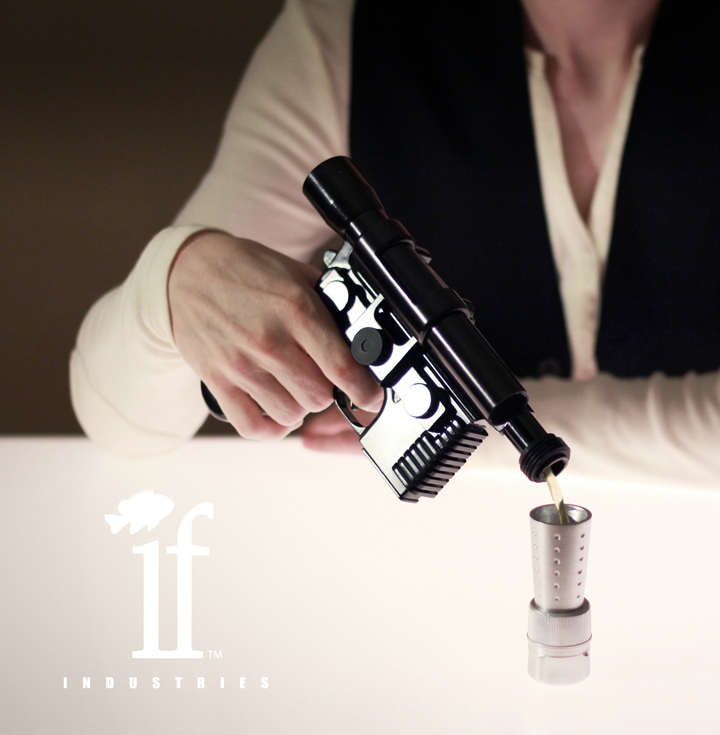 Drink out of this Han Solo blaster flask :
3/4 oz Vodka
3/4 oz gin
3/4 oz triple sec
3/4 oz Rum
1 oz Bourbon Whiskey
2 oz Sweet & Sour mix
1 oz Wild Turkey 101 Bourbon Whiskey
Fill a highball glass with ice. Build the drink in order, then top it with Wild Turkey 101. 
Recipe via Under The label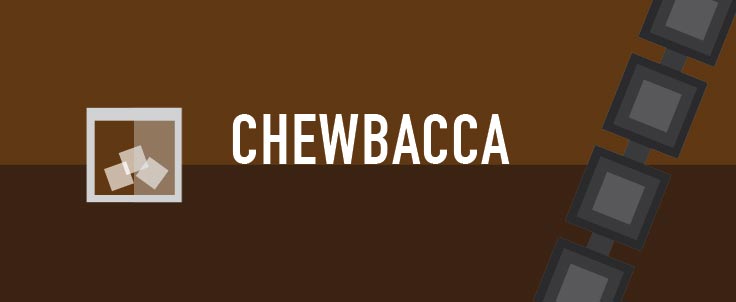 CHEWBACCA
This drink will put hair on your chest. Have enough of these and your voice will slowly turn into a garbled mess.
1/2 oz. Jagermeister
3/4 oz. Blackberry Brandy
1/2 oz. Grenadine
Pineapple Juice
Shake over ice then strain into a rocks glass filled with ice. Then fill with Pineapple Juice.
Thanks to the Small Screen Network for getting this one out.
The Star Wars Cocktails: Villains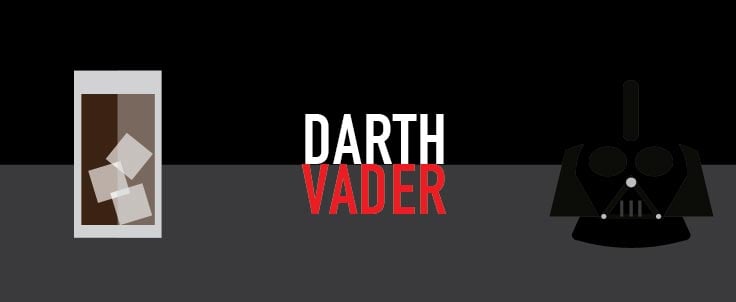 DARTH VADER COCKTAIL
What is a Star Wars Cocktails list without a mention of Darth Vader. The Dark Side will indeed be strong with you when drinking this very strong drink. Combining gin, rum, tequila, and vodka with Jager at any other point sounds like pure evil. But when you give the drink a name, it all starts to come together…
Jägermeister
1/2 oz Gin
1/2 oz Rum, light
1/2 oz Tequila, white
1/2 oz Triple Sec
1/2 oz Vodka
2 oz Sour Mix
Combine all ingredients except Jager and shake over ice. Strain into collins glass filled with ice. Then fill with Jagermeister.
Thanks to Drink Mixer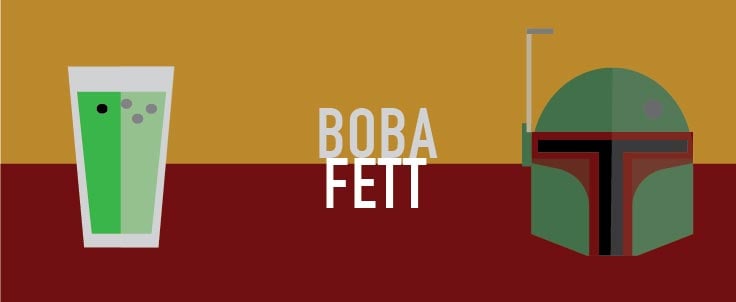 BOBA FETT
The Boba Fett Star Wars Cocktail was created by a Thai restaurant in San Francisco called Chino. Although it is closed now, the memory of this great slushy drink can live on with this recipe. Boba-milk tea, also known as bubble tea, is a Taiwanese drink that contains tapioca balls.
Since the drink is supposed to be an icey slushy, we thought it was a great nod to Boba Fett, who freezes Han Solo in carbonite. Once again ThinkGeek comes to the rescue with the ultimate addition to this drink – Han Solo in carbonite ice molds. (even though you are going to crush the ice, we still think it is worth it)
By all accounts and reviewers, this is a very tasty drink, so try it yourself.  The recipe is
5 cups Vodka
5 cups apple juice
1/2 cup ginger shrub
1 bunch Thai basil
1/2 cup lemon juice
1 cup black tapioca balls
5 cups ice
Place all ingredients (except tapioca balls) in a blender and blend until smooth. Divide tapioca balls evenly into four 24 oz glasses and pour the slush into each one.
The Star Wars Cocktails: Spaceships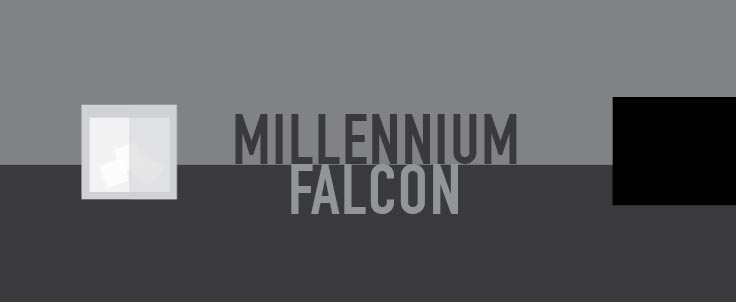 MILLENNIUM FALCON
You've never heard of the Millennium Falcon? Have you at least heard of the drink?
It may not look like much, but this simple drink is quite powerful. In Star Wars: A New Hope. Han tells Obi Wan that the Millennium Falcon "did the Kessel Run in less than 12 parsecs." Apparently it's a fast ship. So fast that it technically makes Han and Chewbacca time-travelers according to Wired Magazine.
So strap in and get ready for the ride of your life!
1 measure vodka
2 measures Malibu coconut rum
dash gomme syrup
Add all ingredients to a lowball glass with ice.
Thanks to the Absurdisan for the video tutorial on making this great drink.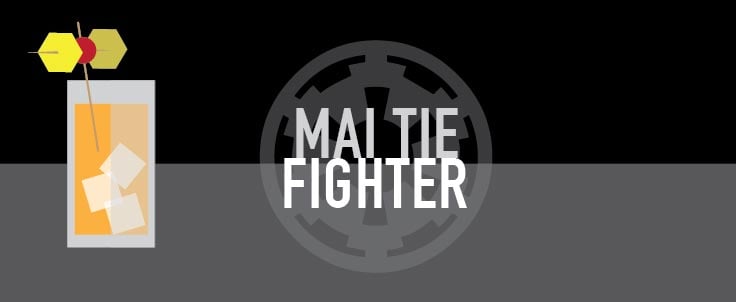 MAI TIE FIGHTER
Saving the corniest one for last, we bring you the Mai Tie Fighter. This is a slight variation on the Mai Tai. Don't let the bright colorful nature of this drink fool you, this Star Wars Cocktail is one of the most popular drinks. The twist in this is the garnish. Take two small slices of pineapple, and one cherry in the middle held together by a toothpick, and you've got yourself a mini TIE fighter.
Thank you to the Nerdista for the idea for the garnish.
½ oz Rum
½ oz Triple Sec
½ oz Creme de almond
½ oz Dark Rum
1 oz each sweet/sour, pineapple and orange juice
Combine ingredients, shake over ice and strain. Then garnish with the TIE FIGHTER!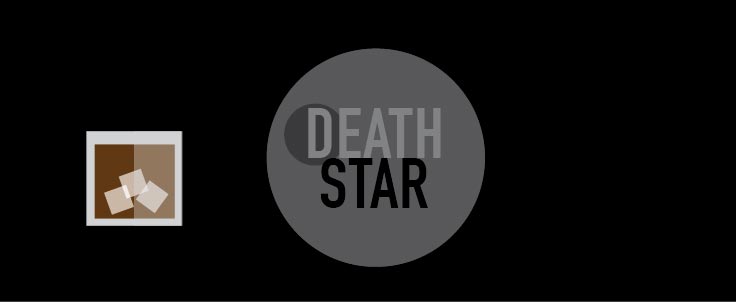 DEATH STAR
This drink is a planet destroyer. Don't be surprised if your night gets blasted to oblivion. A variation on the Long-Island Iced Tea, we don't recommend drinking a lot of these. However, what we do recommend is using an amazing Death Star ice cube when drinking this Star Wars Cocktail. Use this Death Star ice mold from Think Geek.
Ingredients:
1 oz Jagermeister
1 oz triple sec
1 oz vodka
1 oz whiskey
2 oz sweet and sour mix
2 oz (or more) cola
Place all ingredients into a glass with a Death Star ice sphere in it. Stir to mix ingredients.
Thanks to Geeky Hostess
That's it for Star Wars Cocktails, if you have any other great ones, please shoot us an email here. And remember, if you want to start bartending in NYC today, now is the time to start making some money as a bartender. Contact us today to get started!