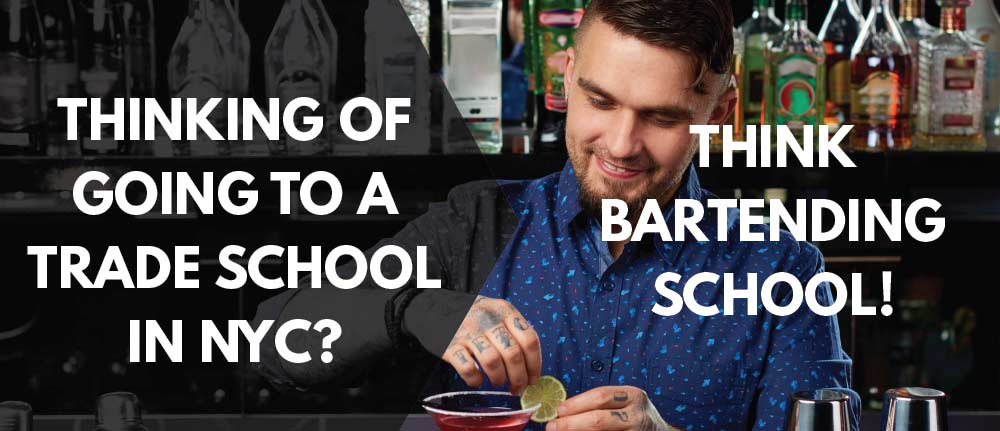 Are you considering going to a trade school in NYC? Consider bartending school. Not only will you get training from real professional bartenders, but at 40 hours for the complete bartender course, you will get out into the real world in the quickest amount of time as compared to other trade schools. And we know that attending bartender school is essential to becoming a bartender in New York City. So, especially with the increasing opportunities for bartending work in New York City, American Bartenders School is the perfect trade school in NYC for you.
So Many Bartending Jobs, So Little Time 
So, how popular is bartending in New York City? Bartenders held about 551,100 jobs in 2012, and moreover, employment of bartenders is projected to grow 12 percent from 2012 to 2022, about as fast as the average for all occupations. This boom of jobs makes bartending more popular than other jobs.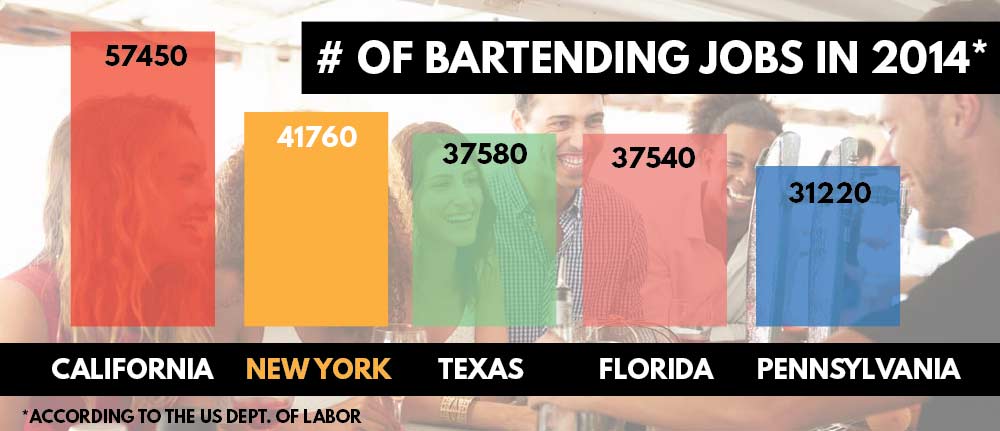 Furthermore, New York has the second highest employment rate for bartenders in the USA. (1st is California) So, by going to bartender school in NY State, you are already in the best place to succeed in bartending. Going further, New York City is the top CITY in the US for employment of bartenders. (Chicago is second, Los Angeles is third.) So, by graduating from American Bartenders School in New York City, you are venturing into a virtual oasis of jobs for bartenders. Not only that, but you will be prepared to make money bartending!
Bars Aren't the Only Places That Need Bartenders
The amount of restaurants in NYC has been growing steadily for years. Gothamist tells us that the number of restaurants has grown 42% in just 10 years. That is an amazing growth rate for any industry. US Bureau of Labor Statistics reports that 43 percent of bartenders worked in a restaurant or eating establishment in 2012.
Shiftgig came up with some amazing numbers from the US Census Bureau that tell us that in the NYC area, there are 16,251 Full-Service Restaurants and 2,657 Bars.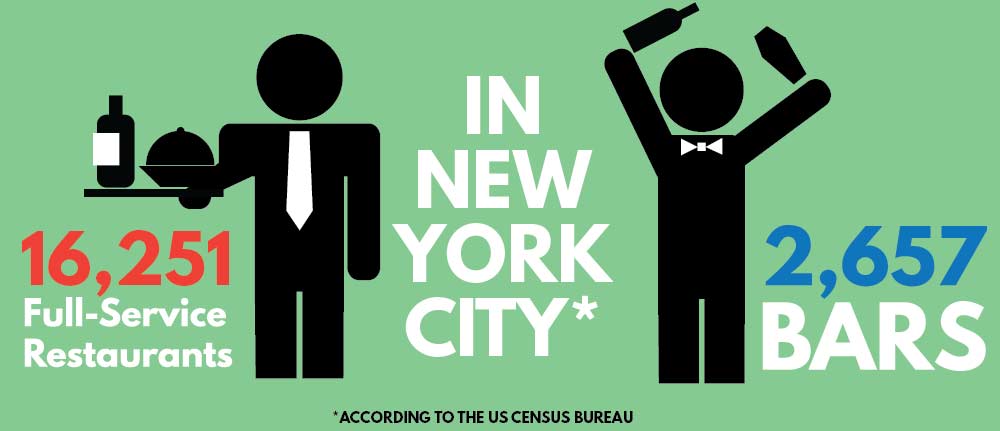 Aside from restaurants and bars, there are also hotels. According to Curbed, the number of hotel rooms are increasing in NYC. This could mean more opportunities for larger bars and increased hiring in the hotel industry for potential bartenders.
In fact, there are so many jobs for bartenders that the number of working bartenders outrank the number of clergy! According to the report from CSN News, there were 46,510 individuals working as members of the clergy as of May 2014, compared to 579,700 working as bartenders.
Compare the number of work opportunities for bartenders to other trade school jobs and you will find that bartending outranks all of them!
| | |
| --- | --- |
| JOB TYPE | Number of Jobs in 2014 |
| Bartenders | 579,700 |
| Textile (shoe, sweing, laundry) | 574,440 |
| Electrician | 566,930 |
| Postal service | 501,000 |
| Host/Hostess | 372,670 |
| Plumber | 372,570 |
| Hairdressers/Cosmetics | 343,140 |
| Data Entry | 287,240 |
| Personal Trainer | 241,000 |
| Telemarketer | 234,520 |
| Woodworker | 229,870 |
| Painter | 208,170 |
| Real estate Broker/Sales | 196,380 |
| Animal Care | 172,990 |
| Auto Body | 137,140 |
| Roofing | 103,650 |
| Modeling | 83,600 |
| Travel Agents | 64,750 |
| Barbers | 14,140 |
After taking our bartending course, you get access to our private job listing service. We get calls and emails from hundreds of bars, restaurants, nightclubs, and hotels who are looking for bartenders. Since our school has been around for so long, we have close relationships with most venues in the city. These job openings go right up on our private job posting board. Every graduate is given a unique password where they can go in, peruse the list, and choose the best fit for them.
Each graduate also sits with our job placement specialists. Here, you will learn how to interview for a job. This is a key piece of the education because you need to know what to say to bar managers who are hiring. We give you some inside tips on securing the position. Our job placement specialist also works with you on writing your resume and interview skills. In case you wanted some quick tips right now, here is our handy guide to getting a job in bartending in New York City in 15 SIMPLE steps.
Bartending School vs Other Trade Schools
So we've established that bartending is very popular in New York state, even more popular in New York City. It outranks almost all trade schools in the number of available jobs. But, how long does it take to learn bartending compared to other trade school jobs? Let's take a look.
American Bartenders School full bartending course is a 40-hour class. You can come in for daytime classes, night classes, or there is a flex schedule that allows you to create your own schedules. If you decide to enroll, you can get in and out in just two weeks. This is a fully intensive class that teaches everything from setting up a bar, to cocktail recipes, to dealing with drunk customers. In two weeks you can learn what it takes to become a bartender in New York City.
Let's compare American Bartenders School two-week course to some other popular trade schools:
BARTENDING SCHOOL vs CULINARY SCHOOL
In New York City, you could go to The International Culinary Center or the Institute of Culinary Education's School of Culinary Arts for a culinary degree. While American Bartenders School can get you working after 40 hours, the 650-hour curriculum of Institute of Culinary Education's School of Culinary Arts offers schedule options for completion in 6 months to 14 months. The Classic Culinary Arts course is a 600-hour program which runs for 6 months as well. Tuitions for these courses range from $30k – $60k. That is 600-650 hours of class time before getting out into the world.
BARTENDING SCHOOL vs ELECTRICIAN TRADE SCHOOL
New York City has a range of electrician trade schools. To get a job right out of the gate as an electrician you would need to take a course like the Electrician Certificate Program at Bramson ORT College. This 30 credit course can take two years and costs almost $11k. Other programs, such as the Electrician Bachelors Program at Polytechnic Institute of New York University lasts four years and can cost almost $20k per semester or $40k per year. Two or four years vs 2 weeks in bartending school.
BARTENDING SCHOOL VS PLUMBING
Considering plumbing for a career over bartending? Research shows that there are over 200 thousand more jobs for bartenders in New York City. American Bartenders School prepares you for a job in bartending in just two weeks. Compare that timeline to the plumbing course at Nassau Board of Cooperative Educational Services. Here you can learn classes like Plumbing I and II, Oil Burner I, Gas Burner, Solar Hot Water Heating and Blueprint Reading. But it is a 258-hour program. Compare this to the 40-hours it takes for American Bartenders School.
These careers are not bad choices, but if your goal is to get trained and start making some serious money right out of the gate, then bartending school is the trade school for you.
Recession Proof Job
The truth is, drinking is popular. It is a fun activity that will never go out of style. When searching for a trade school, you should keep in mind that bartending is known as "recession-proof". When times get tough, people want to have some fun at a bar and forget about things for a while. Some seek out the companionship of a bartender at their local bar, or they visit a larger bar with their friends. Either way, bartenders provide some comfort when times get tough. Not many other trade schools prepare you for an industry quite like bartending.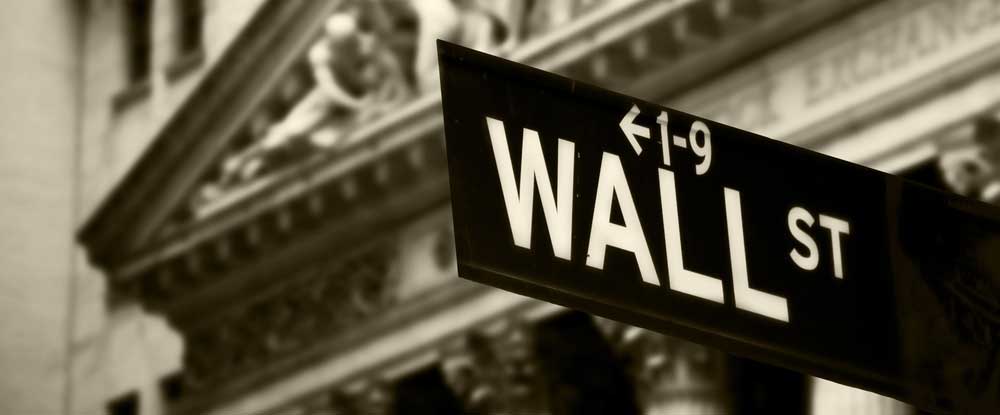 Youngmoney called bartending one of the top 10 recession-proof jobs. Take a look at another article saying, "Bartending may be the ultimate recession-proof career: bartending jobs are expected to increase 13 percent between 2006 and 2016″. The article interviews a bartender who says, "People aren't going to stop drinking when things go bad…In fact, they go out and drink more."
Take a look at any football game or baseball game and you will see alcohol sponsors everywhere. Alcohol compliments virtually every sporting event known to man. And where there are bars, there are bartending jobs, making bartending school a great choice as a trade school.