Are you throwing a New Year's Eve Cocktail Party this year? American Bartenders School understands that not every person has the same taste in cocktails, so we decided to be extra thorough and help come up with a variety of different New Year's Eve drink ideas for any type of party. We've broken it down into New Year's Eve Cocktails for two, New Year's Eve Shots, cocktails for a larger house party, and lastly, big batch New Year's Eve Drink recipes that will keep everyone happy.
Pick the right drinks with the New Year's Eve Cocktail Guide that will keep you and your guests merry as you bring in the new year together.

New Year's Eve Cocktails – Keep them Sparkling
We are going to start our New Year's Eve Cocktail guide off with champagne, since it is a mainstay New Year's Eve cocktail. This tradition of celebrating with champagne goes way back to the Middle Ages so, you can't go wrong with a great bottle of bubbly. However, it is important to consider the type of sparkling wine that you are going to celebrate with on your big night. Remember, you don't want to choose the wrong bottle, otherwise you will need to wait a whole year to get it right!
What is Champagne?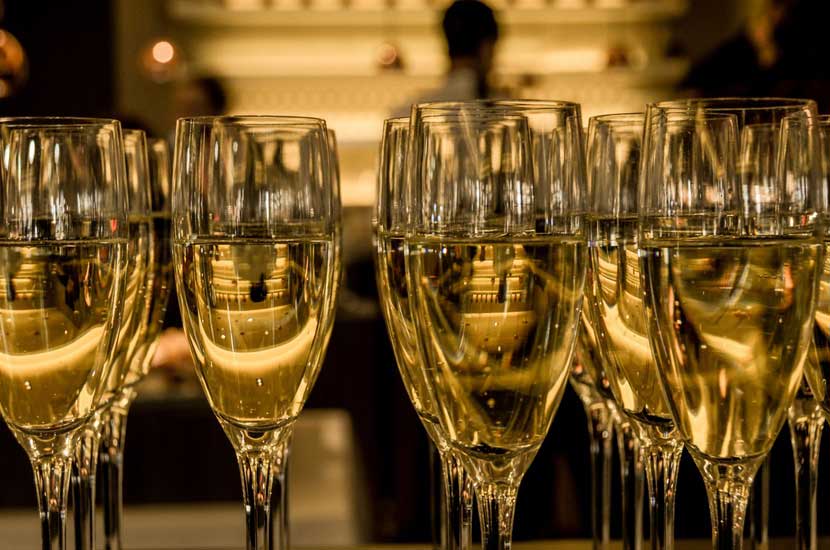 Let's start off with a quick basic primer in sparkling wine. As a New Year's Eve cocktail, this is about as simple as it gets. Yet, there are many layers to sparkling wine that you may not be aware of.  For instance, sparkling wine can only go by the name 'Champagne' if it has been made in the Champagne region in the north east of France. The region has a very distinct climate that gives the grapes a distinct taste. Remember: All sparkling wine does not have to be champagne, but all champagne is sparkling wine!
The fact that it has been around for so long and producing quality products for hundreds of years allows them to keep a higher price point. This doesn't mean that they are necessarily the best. Each person may have their own preference for sparkling wine.
If you are in the market for something other than Champange, other popular sparkling wines that come from Italy are Franciacorta, Asti, Lambrusco, and Prosecco. Another popular type of sparkling wine, Cava, comes from Spain.
Brut or not to brut?
A Brut is essentially champagne that is devoid of sugar. If you are into extra dry wine, you may want to consider a Brut. Here is a quick breakdown of the sparkling wine sweetness scale.
Ultra Brut/Extra Brut/Brut Zero/Brut Nature/Brut Sauvage: Totally dry – No added sugar
Brut:  Should taste dry with no perception of sweetness. (Contains no more than 1.5% sugar.)
Extra Dry/Extra Sec:  Slightly sweet. (Up to 2% sugar.)
Sec:  A.K.A. 'dry' – Noticeably sweet. (Up to 3.5% sugar.)
Demi-Sec:  Sweet. (Up to 5% sugar.)
Doux:  Sugary Sweet. (Up to 10% sugar.)
New Year's Eve Sparkling for Two: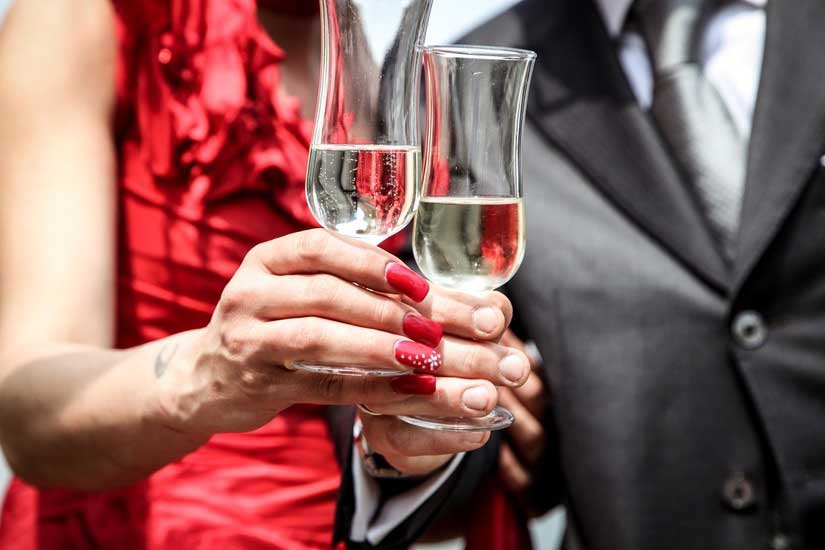 So now that you have your basic primer, here are a few great choices from WineMag.com:
$10 – 15
88 Segura Viudas NV Brut Reserva (Cava)
This cava a great wine that is at a great value if you are looking to dabble in sparkling wine but don't wish to commit your whole pay check.  Price: $10
89 Le Colture NV Fagher Brut (Conegliano Valdobbiadene Prosecco Superiore).
While the word Prosecco may tell you some of the story, apparently the journey to harvest the grapes used for this wine is quite an involved and under-appreciated process. Treacherous mountain cliffs, helicopters and intricate pulley systems are all employed to maintain these vineyards. This prosecco superiore is crisp and pairs great with Mediterranean foods. Price: All of this for $15
$20+
92 Raventós i Blanc 2009 de Nit (Cava)
The brand Raventós i Blanc is an "undisputed leader in quality " among Cava producers. At $26 this price point will give you the quality of a great champagne, but won't break the bank. Price: $26
88 Hermann J. Wiemer 2006 Cuvée Brut (Finger Lakes).
This dry sparkling wine is from the Finger Lakes of New York State. Price: $27
$50+
92 Roland Champion 2007 Spécial Club Chouilly Grand Cru Blanc de Blancs Brut (Champagne)
The"Spécial Club" means that the wine has been approved by a special select group. Price: $80
95 Bollinger 2004 La Grande Année Rosé Brut (Champagne)
This is apparently James Bond's favorite Champagne. At a higher price point, it should make any date night special. Price: $235
New Year's Eve Cocktails for Two: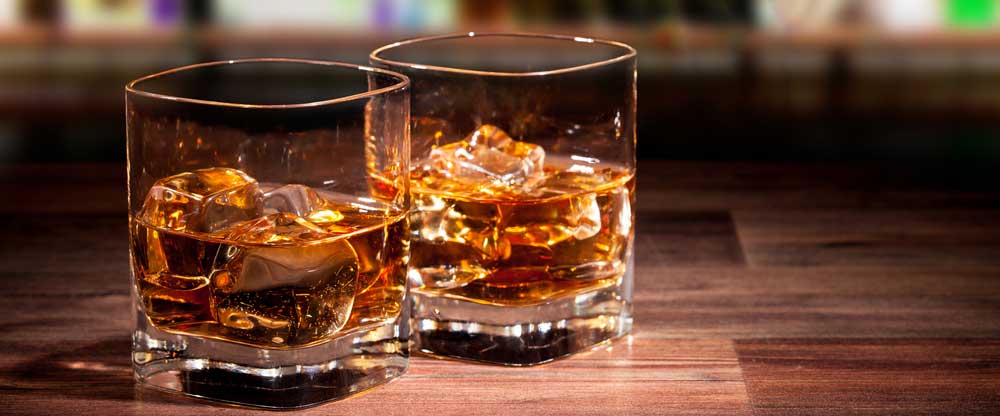 Perhaps a bottle of champagne is a little too plain? Take a look at these New Year's Eve drink recipes that use champagne. Maybe you'd like to spice it up a bit and try your hand at a champagne cocktail. This very traditional drink is essentially an old-fashioned but it uses sparkling wine in place of whiskey.
Champagne Cocktail Recipe:
Sugar cube
Dash Bitters
Champagne
Put 2-4 dashes of  bitters on the sugar cube, pour Champagne into a fluted glass and then drop in the bitters soaked cube.
However, there are also many other cocktails made using sparkling wine as a base. The most popular is probably the Mimosa. Here are a few variations on the champagne cocktail that are great for your date night.
Sorbet and Champagne Cocktail
A simple addition to champagne can make all the difference.
1 teaspoon sorbet (we like raspberry or passion fruit)
Chilled Champagne or Prosecco
Scoop sorbet into a champagne flute. Fill with chilled Champagne or Prosecco; stir.
Via Martha Stewart
Air Mail
This drink is unique in that it combines rum with champagne. This gives a summer-ish twist to your New Year's Eve Cocktails party.
2 ounces rum — golden rum
1/2 ounce lime juice
1 teaspoon honey
5 ounces Brut champagne
Mix thoroughly with cracked ice in a chilled cocktail shaker, then pour unstrained into Collins glass. Fill with champagne. (We recommend using Puerto Rican rum.)
via Esquire
New Year's Eve Fancy House Party Cocktails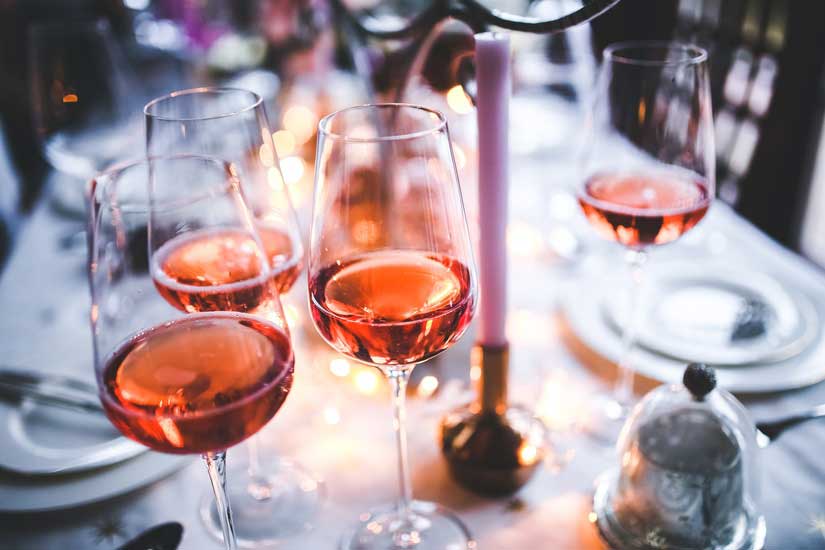 OK, so maybe instead of a romantic dinner and evening on New Years, you are having a few friends over. Put away the Coors Light and try some of these great cocktails.
Hot Apple Pie Cocktail
The great taste of Apple Pie, in an alcoholic drink. It almost sounds too good to be true!
¾ oz. Stoli Vanilla Vodka
1½ oz. Butterscotch Schnapps
4 oz. apple cider
1 oz. whipped cream
1 cinnamon stick
cinnamon powder
Combine spirits and cider, steaming until warm. Add cinnamon stick to footed mug and pour in liquid. Top with whipped cream and sprinkled cinnamon powder.
via Delish
Siren's Song
This drink features everyone's favorite – Ginger Beer! This New Year's Eve Cocktail will keep them singing Auld Lang Syne until the wee hours.
3 ounces champagne
1 ounce ginger beer
1/2 ounce raspberry puree
1/2 ounce raspberry liqueur
Combine all of the ingredients in a cocktail shaker with ice and stir for 5 to 10 seconds. Strain into a champagne flute.
via Epicurious
Black Velvet
OK – You and your guests love beer but still want champagne? Try this drink!
Half-fill a Collins glass with stout and top up slowly with champagne. Stir gently with glass or plastic rod.
Via Esquire
Big Batch New Year's Eve Cocktails for your Big New Year's Eve Bash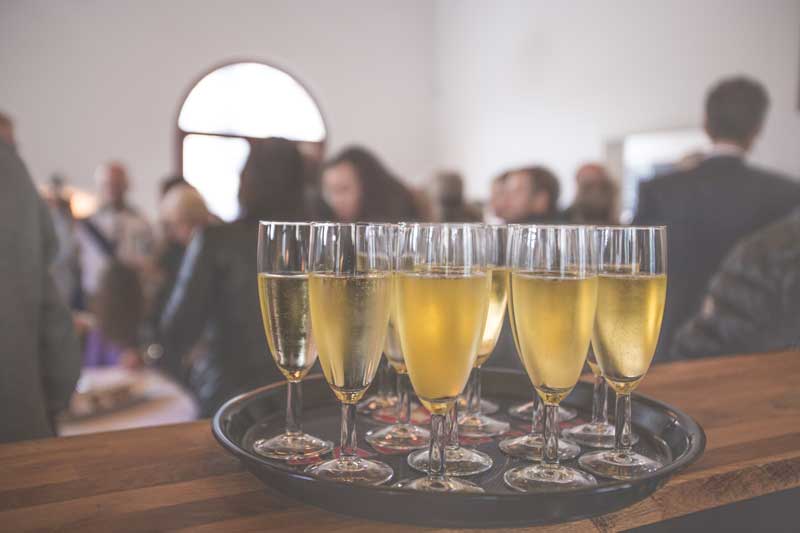 Maybe you would rather be in a large crowd for New Year's Eve. We've got you covered when it comes to big batch drinks. These New Year's Eve Cocktails are easy to make and should keep the cost down.
Blood Orange Punch
Blood oranges are in season from December until May, so you should take advantage of them and get them in your cocktails.
2 bottle(s) (25 ounces each) blood orange juice, chilled
3 can(s) (12 ounces each) natural orange soda, such as San Pellegrino Aranciata, chilled
3 tablespoon(s) fresh lime juice
8 ounce(s) light rum
5 dash(es) bitters
1 blood orange or orange, cut into 1/4-inch-thick wedges and frozen
Fill ice cube trays with 1 1/2 cups orange juice, and freeze. To make punch, stir remaining orange juice, soda, lime juice, rum, and bitters into a 16-cup punch bowl. Before serving, add frozen orange slices. Add ice cubes as needed to keep chilled.
Orange Cherry Champagne Cocktail
A great recipe for another orange-based big batch cocktail.
3 seedless oranges
Peel of 1/2 orange
½ c. red cherries
½ c. sweet vermouth (such as Carpano Antica)
¼ c. blended Scotch (such as Famous Grouse)
1 bottle champagne or other dry sparkling wine (such as Domaine Saint Vincent Brut)
Transfer orange juice to a blender. Add cherries and blend until fruit is pureed. Strain juice into a pitcher. Stir in vermouth and Scotch. Divide cocktail mixture among 8 glasses and top off each with about 1/3 cup champagne. Garnish with orange peels.
via Delish
Champagne Punch
This classic, easy-to-make punch recipe should keep the party going!
12 ounce can frozen fruit punch, thawed partially
10 ounces strawberries (can be frozen)
2/3 cup orange juice
2 tablespoons fresh lemon juice
24 ounces ginger ale
1 quart Champagne
3 cups water
Ice
Sliced fresh citrus fruit
Place fruit punch, water, strawberries, lemon juice, and orange juice in a large punch bowl. Stir well to combine all ingredients. Pour ginger ale and Champagne slowly into the bowl. For a finishing touch, add a ring of ice to the punch and slices of fresh citrus.
via Cocktails
New Year's Eve Shots
Perhaps your New Year's Eve cocktail and drink recipes aren't enough. Maybe you need some shots to liven up the party. We highlighted some of these in our holiday shots post, but here are a few of our favorites.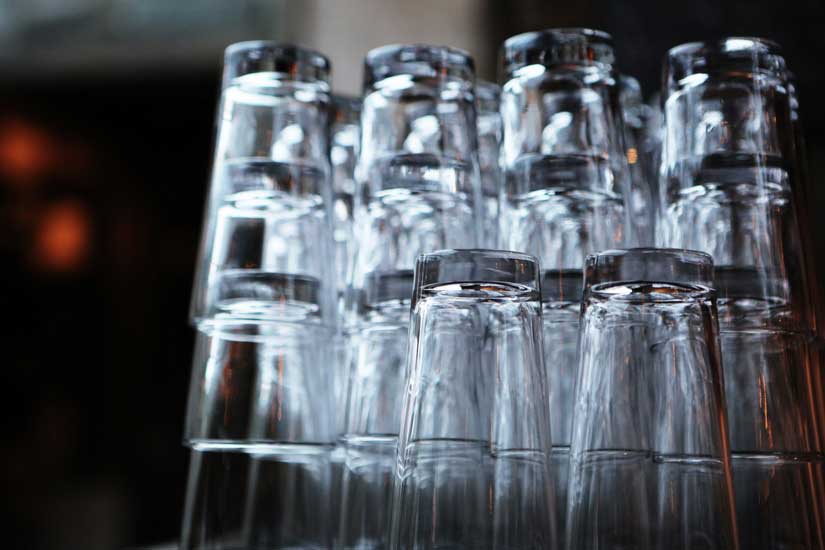 This is pumpkin pie in a shot glass. Here's an amazing (and slightly dangerous) tip – light the goldschlager for a fresh baked version. Make sure you blow it out before drinking!
2 oz Coffee Liqueur
1 oz Irish Cream Liqueur
1 oz Goldschlager
Layer each ingredient with a spoon and shake with ice. Strain into 4 shot glasses.
This is a great tasting shot for parties because it reminds everyone of the classic candy – M&M's. If you like this shot, you can find every candy-flavored shot and cocktail on this post!
1/2 oz. Frangelico
1/2 oz. Creme de Cacao
Shake over ice and serve
This shot is sweet and delicious it can be made with brandy or butterscotch schnapps. It's your party, so the choice is yours. (We prefer to have it with the butterscotch.)
¾ oz Butterscotch Schnapps or brandy
¾ oz Bailey's Irish Cream
Build in a shot glass or shake and strain