It's that time of the year again…the holiday season. How better to get into the holiday spirit than by having some holiday shots? With so many different types of shots and holiday cocktails out there, sometimes it is difficult to decide which shot you should go with.
Not to worry! We've put together a Holiday Shot Flow Chart to help you decide which holiday shot is right for you.
Plus we've got some other holiday drink recipes and holiday drink ideas for you!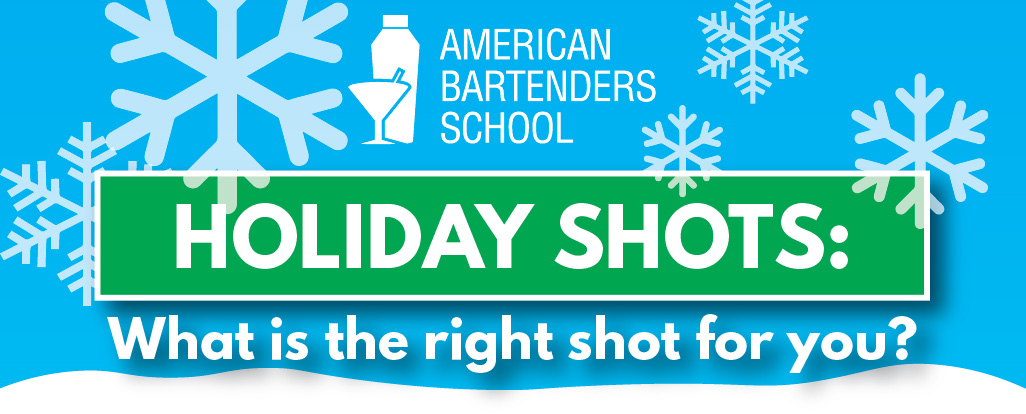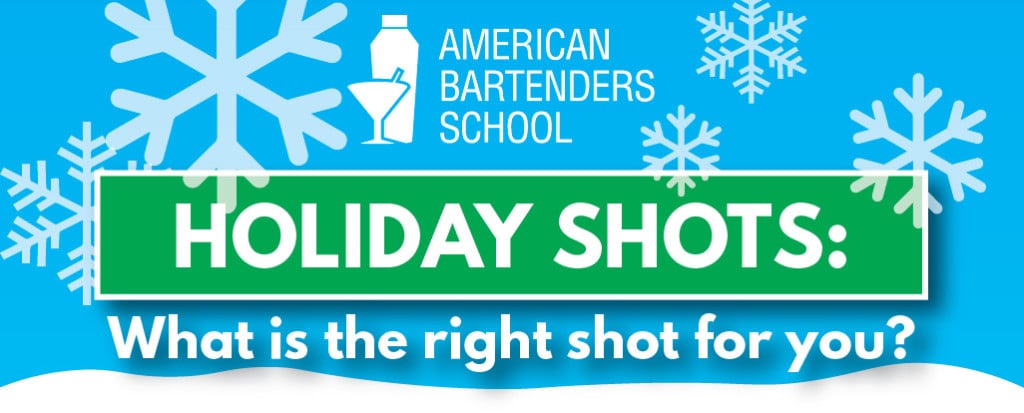 Whether you've been naughty or nice, filled the holiday spirit or sick of it, we've got a great holiday shot idea for you. With this Holiday Shots flow chart, you start at the top and follow the answers to all of the questions. This will lead you to the promised land of holiday shots recipes.

If you are interested in holiday shots recipes that are specific to New Year's Eve, take a look at our New Year's Eve Cocktail Guide and if you just love shots and can't get enough, re-experience your childhood in booze-form with our try candy-flavored shot guide.  Each makes a great holiday shots experience. After the chart, we have included full holiday shot recipes with some extra shots that family and friends will love!

So, without further ado – check out our Holiday Shots Flow Chart!

Or click here to jump to the recipes.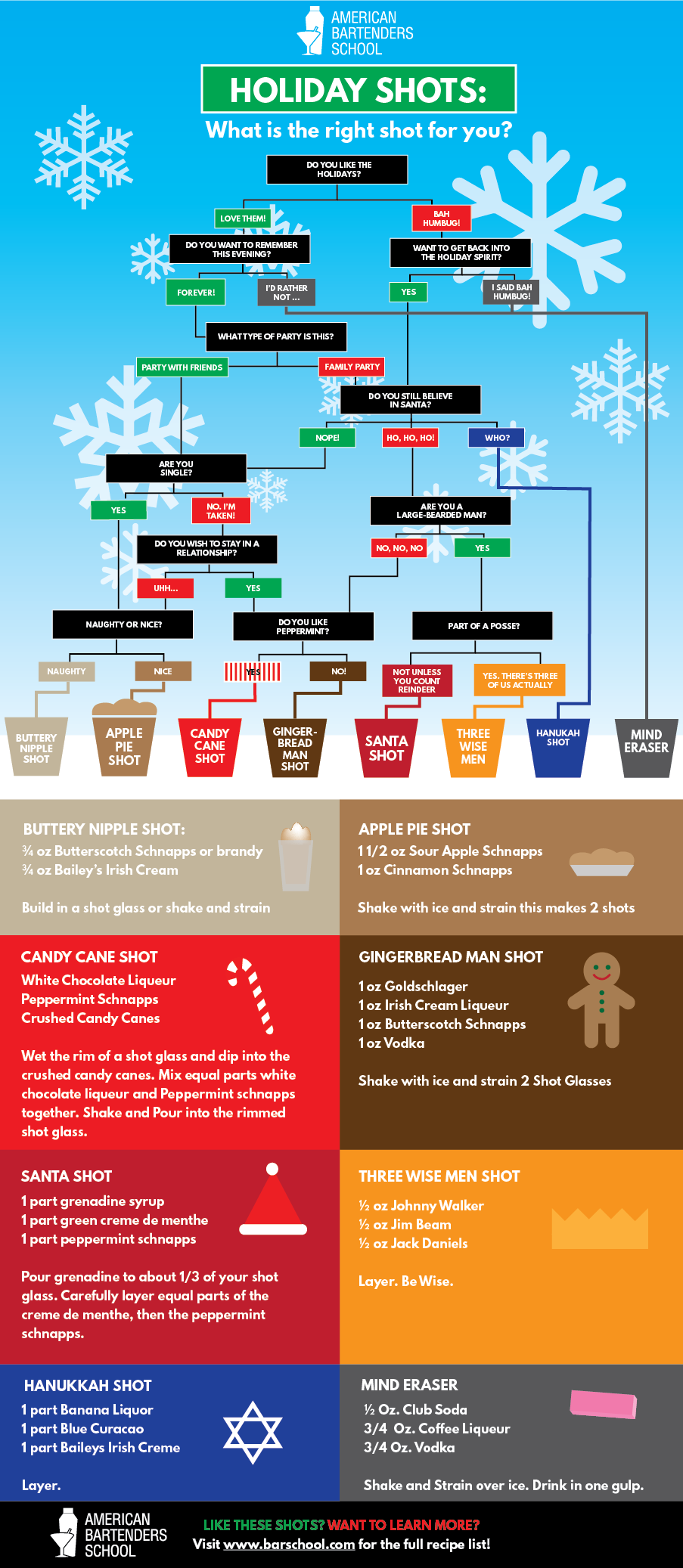 Here are all the recipes included in the Holiday Shots Flow Chart, as well as some others!
Holiday Shots Recipes
This holiday shot recipe is sweet and delicious it can be made with brandy or butterscotch schnapps. (We prefer butterscotch!)
¾ oz Butterscotch Schnapps or brandy
¾ oz Bailey's Irish Cream
Build in a shot glass or shake and strain.
If you love apples or love pie, this holiday shot recipe is tastes just like an apple pie and it's the perfect companion to the real thing.
1-1/2  oz Sour Apple Schnapps
1 oz Cinnamon Schnapps
Shake with ice and strain this makes 2 shots 
Like the apple pie shot, the pumpkin pie shot holiday shot is made to taste just like the real thing.  If you want to get crazy, try putting the Goldschlager in last, then light it with a lighter. This will give you a fresh baked version. (CAUTION: MAKE SURE YOU BLOW IT OUT BEFORE DRINKING!)
2 oz Coffee Liqueur
1 oz Irish Cream Liqueur
1 oz Goldschlager
Layer each ingredient with a spoon. 
CANDY CANE SHOT
White Chocolate Liqueur
Peppermint Schnapps
Crushed Candy Canes
Wet the rim of a shot glass and dip into the crushed candy canes. Then mix equal parts white chocolate liqueur and Peppermint schnapps together. Next, shake and pour into the rimmed shot glass.
This one is from Fancy Napkin Blog!
CANDY CANE II
This is another Candy Cane alternative! With holiday shots and holiday drink recipes, there is never just one version – try them all and decide for yourself.
 ½ oz Peppermint Schnapps
½ oz Berry Vodka
Mix over ice and strain.
This one tastes like your favorite cookie and/or house. Try to refrain from yelling out "CAN'T CATCH ME I'M THE GINGERBREAD MAN!"
1 oz Goldschlager
1 oz Irish Cream Liqueur
1 oz Butterscotch Schnapps
1 oz Vodka
Shake with ice and strain 2 Shot Glasses
A variation on this shot is this drink:
Gingerbread Man II
½ oz Domaine De Canton,
½ oz Rum Chata.
SANTA SHOT
1 part grenadine syrup
1 part green creme de menthe
1 part peppermint schnapps
Pour grenadine to about 1/3 of your shot glass. Carefully layer equal parts of the creme de menthe, then the peppermint schnapps. Don't worry if the schnapps and creme de menthe blend together, as mine did. Garnish it with crushed candy canes, if you want.
Thanks to Mix That Drink for this one!
SANTA'S BOOT
This one is super simple, but really great. It hits you like a snowy kick in the face, hence the name.
½ oz of Black Sambuca
Topped w/ whipped creme
HO! HO! HO!
SANTA'S HELPER
Another Santa-themed shot, because if you simply can't get enough. This one looks Christmas-y.
½ oz Grenadine
½ oz green Crème de Menthe
Layer and enjoy!
THREE WISE MEN
This classic shot may make you wiser, but we couldn't find any medical research to back up that claim. All in all, it tastes great if you like whiskey.
Layer equal parts:
Johnnie Walker Scotch whisky

Jim Beam bourbon whiskey

Jack Daniel's Tennessee whiskey
Three Wise Men recipe comes from Drinks Mixer.
HANUKKAH SHOT
This shot is another visual masterpiece.
Layer equal parts:
1 part Banana Liquor
1 part Blue Curacao
1 part Baileys Irish Creme
Thanks to Coed for this one.
Technically, this one isn't a shot, but it falls into the shot category because you are supposed to drink it through your straw in one gulp. Either way you drink it, you probably won't remember anyway!
½ Oz. Club Soda
3/4  Oz. Coffee Liqueur
3/4 Oz. Vodka
Shake with ice and strain into a shot glass
Come check out American Bartenders School if you want to learn the correct way to make these shots and many other drinks. We want to help you become a bartender today. We'll help you find a job bartending and get you making some money fast. Contact us for more details.