Super Bowl Sunday is quickly approaching! Whether you are hosting a party or headed to a friend's house to see some heroics from the Seahawks and Patriots (or maybe you are just in it for the commercials), there are a couple fairly easy big batch drinks you can whip up that will make you the hero of the party. These are all ingredients you should be able to find at a grocery store and of course the local liquor store. All of these go well with typical superbowl snacks like salty nachos or hot wings, or even a Turducken.

1. Blood Orange Punch:
(blood oranges are in season now)
2 bottle(s) (25 ounces each) blood orange juice, chilled
3 can(s) (12 ounces each) natural orange soda, such as San Pellegrino Aranciata, chilled
3 tablespoon(s) fresh lime juice
8 ounce(s) light rum
5 dash(es) bitters
1 blood orange or orange, cut into 1/4-inch-thick wedges and frozen
Fill ice cube trays with 1 1/2 cups orange juice, and freeze. To make punch, stir remaining orange juice, soda, lime juice, rum, and bitters into a 16-cup punch bowl. Before serving, add frozen orange slices. Add ice cubes as needed to keep chilled.

2. Micheladas:
Grab 2 six packs of your favorite beer (preferably Tecate), because this recipe good for about 10-12 beers.
1 oz soy sauce
1 oz Tabasco (or other hot sauce)
1 oz Worcestershire sauce
8 oz Fresh squeezed lime juice
Season with celery salt and black pepper. Mix these ingredients together and you have made the base. Now take a tall chilled beer glass, coat the rim with salt and add a couple of spoons of your spice mix to the glass and top with a cold beer and garnish with a lime wedge.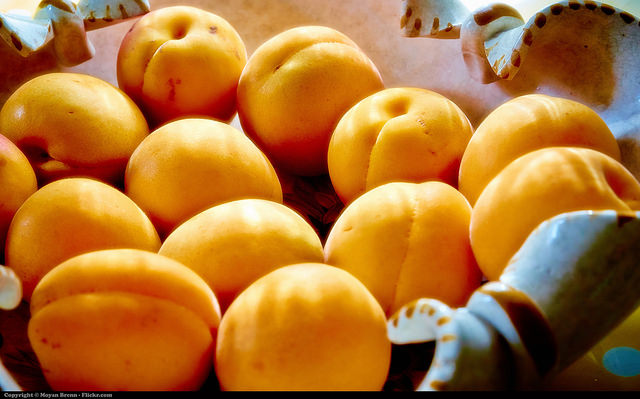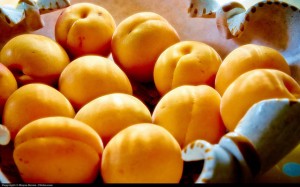 3. Apricot Sangria:
2 bottle(s) (750 mililiters each) dry white wine (like Chenin blanc or Chardonnay)
1/2 cup(s) orange liqueur (like Cointreau or triple sec)
1/2 cup(s) apricot brandy
1 cup(s) apricot nectar
1/2 cup(s) superfine sugar
2 lemons, thinly sliced, seeded
2 limes, thinly sliced, seeded
2 oranges, thinly sliced, seeded
2 cup(s) ginger ale
Fresh mint sprigs
Combine wine, liqueur, brandy, apricot nectar, and sugar in a large 4-quart glass jar and mix well to dissolve sugar. Stir in sliced fruit. Refrigerate for several hours until well chilled, or preferably overnight, for flavors to blend. When ready to serve, stir in ginger ale and mint sprigs.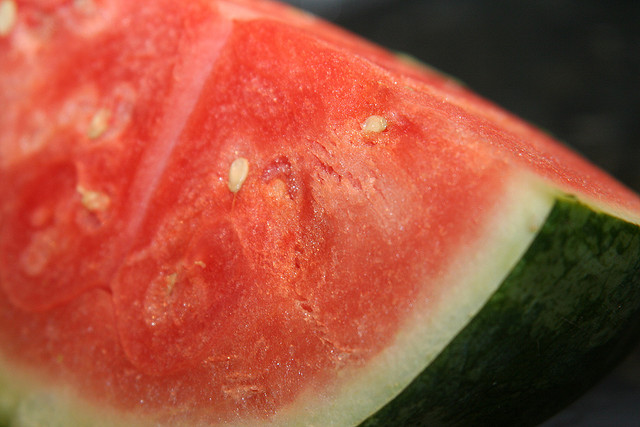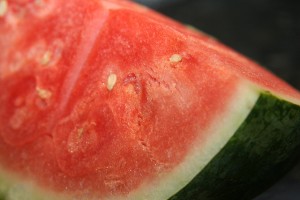 4. Watermelon Margaritas:
For rimming the glass:
1 ounce fresh lime juice
1 teaspoon kosher salt
1 teaspoon sugar
1 teaspoon chili powder
For the cocktail:
1 cup cubed ripe watermelon, seeds removed
2 ounces tequila
1/2 ounce fresh lime juice
1/4 ounce simple syrup
ice
Place 1 ounce lime juice in a saucer. Mix kosher salt, sugar, and chili powder. Place in second saucer. Dip serving glass into lime juice, rotating so outer edge of the glass becomes moist. Repeat in the second saucer with the chili/salt mixture. Juice watermelon or muddle well in a cocktail shaker to yield 2 ounces watermelon juice. Strain and discard solids. For quantity, juice whole watermelon. Add 2 ounces watermelon juice, tequila, 1/2 ounce lime juice, and simple syrup to a cocktail shaker and fill with ice. Shake well. Fill rimmed serving glass with ice and strain drink into the glass.   Got one to add? Email me at socialmedia (at) barschool.com
---
Thanks to Chris Cook for the blood orange pic. Thanks to Calitexan for the Michelada pic. Thanks to Moyan Brenn for the apricots pic. Thanks to Keith McDuffee for the watermelon pic