Halloween is only week away and you need a plan. Not to worry, New York City might be the best place on earth to celebrate. Whether you enjoy beer, vodka, whiskey, or Halloween-inspired spooky drinks, there are definitely choices for you in New York City. Here are the best places to drink for Halloween in NYC.
Official New York City Halloween Pub Crawl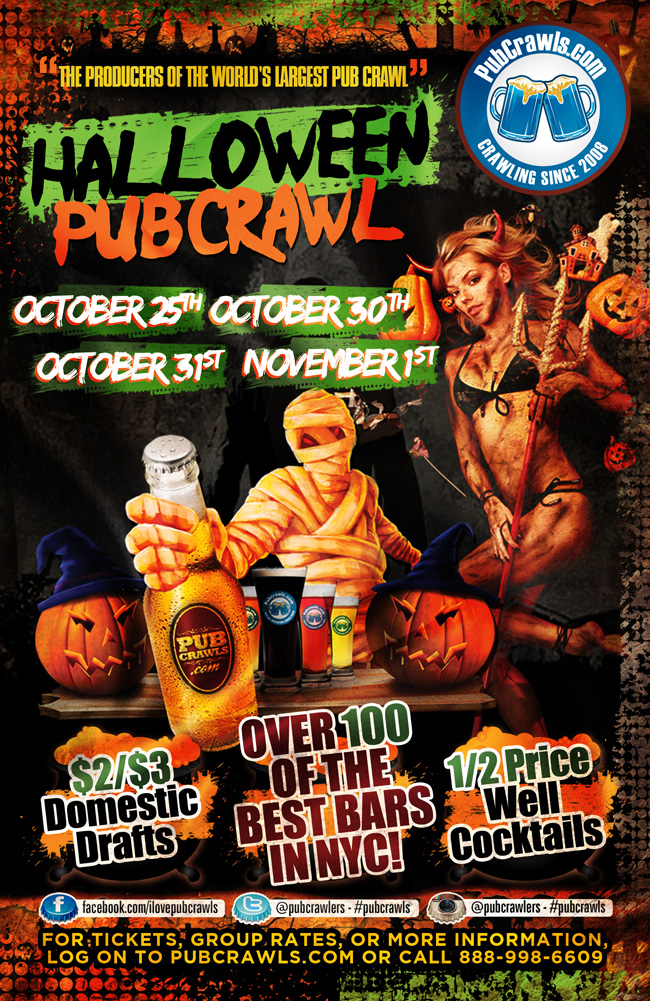 The Official New York City Halloween Pubcrawl starts at the Halloween Parade and ends wherever you decide! With $2 drafts and 1/2-price well drinks, your night could get pretty spooky.
http://pubcrawls.com/events/halloween/halloween-pub-crawl-new-york.php
STK Meatpacking
26 Little W. 12th St. New York, NY 10014
The STK Meatkpacking Halloween Event is widely known for its debauchery. The 7th Annual Meat Hacking Halloween Massacre has DJs, dancers, drinks, and general admission tickets are just $20! However, it is "not for the timid or faint of heart"…you've been warned!
http://halloweennyc.com/events/7th-Annual-Meat-Hacking-Halloween-Massacre
Guastavinos
409 East 59th Street New York, NY 10022
The longest open bar winner is Guastavino's Sinners & Saints Masquerade Gala with its 6-hour open bar. Tickets go fast for this one. Featuring large, cavernous ceilings, this 25,000 square foot event space is located in the middle of Manhattan, right by Central Park. 
http://halloweennyc.com/events/Sinners-and-Saints-Halloween-Gala-Guastavinos
Webster Hall
125 E 11th St, New York, NY 10003 
This one is less of a bar and more of a full out Halloween experience – Webster Hall's aptly named Halloween event Webster Hell has everything from a virgin sacrifice to a $5,000 reward for best-costume, so it might be time to break out a real costume. Check out the website for pics of some amazing (and racy) costumes.
Pranna
79 Madison Ave, New York, NY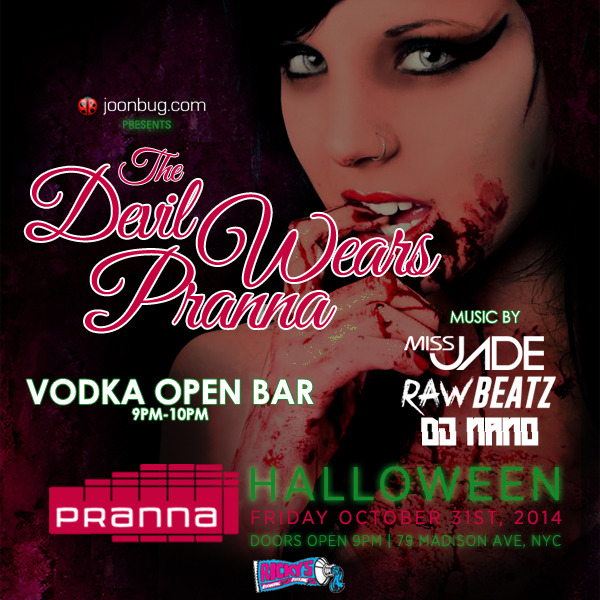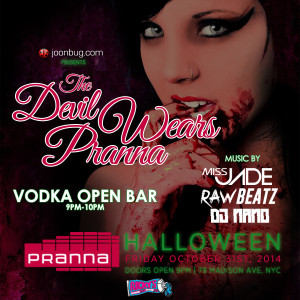 Perhaps the swankiest of the bunch is The Devil Wears Pranna at the Pranna Restaurant. The cheapest ticket at $20 offers a one hour well bar. Apparently, those who know the party call it "Halloween's unofficial HQ for purely decadent fun." Sounds good to us.
http://halloweennyc.com/events/The-Devil-Wears-Pranna-2014