Valentine's Day is approaching and we know what is on everyone's mind. We've decided to do some digging and figure out if cocktail ingredient will actually help you ignite the flame. Since the beginning of civilization men and women have linked food and spices to sex. Some links were made to sex because of the shapes of certain foods, while others were thought to have special chemical qualities that increased sexual desire. Avocados were known to the Aztecs as ahuacuatl, which means testicle tree.
A famous 18th century "lover" named Giacomo Girolamo Casanova claimed to eat 50 oysters for breakfast every day to increase his sexual drive. You may have also heard of other aphrodisiacs like chocolate, strawberries, or asparagus. So, in honor of Valentine's Day this week, before you go running out to buy chocolate-covered oyster shots, you may want to double check our list to see if these are actually aphrodisiacs at all.
Unfortunately, scientists at the Food and Drug Administration insist that aphrodisiacs are a myth. Science tells us that some foods and spices do actually have qualities or chemicals that can be linked to sexual desire, like causing an increase in blood flow. But, unfortunately, there isn't any magic fruit that will immediately make someone start swooning over you. "The best thing you can do," says one of the teachers here at American Bartenders School here in New York, "is to look them in the eye when you talk to them, and serve them the best tasting cocktail they've ever had."
PLACEBO EFFECT
But wait! That doesn't mean that you cannot stir up some emotions in your significant other with some foods or spices. You may just have to do a little homework. The fact of the matter is that your partner may still subconsciously link certain foods and smells to sexual experiences, which is as close as you can get to an actually aphrodisiac! This is basically known as a placebo effect, where even if an oyster doesn't chemically create a sexual desire in your partner, they may believe it does, which, in our book, still makes it effective.
So, getting on with the list, lets look at some popular 'aphrodisiacs' and determine if they actually do what you think they do. Since we are a Bartending School, we are going to focus on cocktail-related ingredients for the basis of this list. (Sorry asparagus and eels, there just aren't any good cocktails out there for you.)
OYSTERS: YES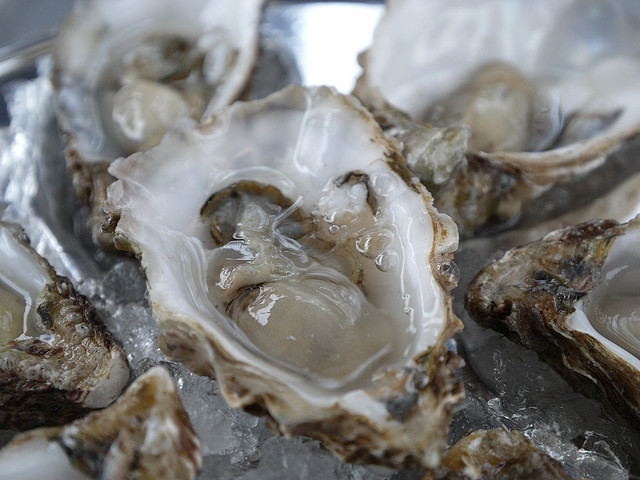 Back in 2005, a study was done on mollusks in Naples, Italy. Much to the surprise of scientists, they found that the amino acids that naturally occur in oysters can actually raise testosterone and progesterone levels in males and females respectively. According to the study, they must be eaten raw, because cooking them reduces the effectiveness of the amino acids.
DRINK RECIPE: Oyster Shot
4 shucked oysters
4 teaspoons hot pepper sauce
1 teaspoon prepared horseradish
1/4 cup vodka, or as needed
Place each oyster into a shot glass. Add one teaspoon of hot sauce to each glass, then add horseradish to taste. Fill glasses to the top with vodka, and drink immediately.
via Allrecipes.com
pic from Farrukh
---
 ABSINTHE : NO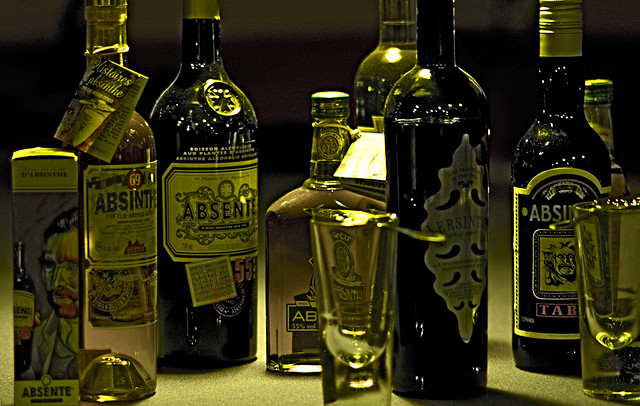 According to the website, Absinthefever, absinthe is magic, not chemistry. This should tell you all you need to know about this one. Although it does have hallucinogenic qualities, there is nothing in absinthe that links to increased sexual desire.
DRINK RECIPE: Absente Energizer
1 1/2 oz Absente® absinthe liquor
Can of Red Bull Energy drink
Pour over ice in a highball glass. Stir and enjoy.
via American Bartenders School
pic from Ex-InTransit
---
CHILI PEPPER: NO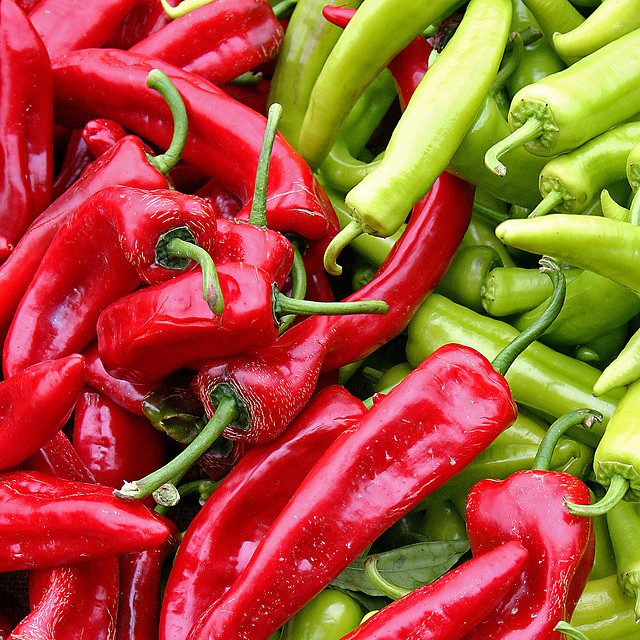 However, the placebo effects of hot peppers are very evident. Flushed cheeks, sweating, increased heart rate are all mimic the effects of sexual arousal.
DRINK RECIPE: Caribbean Spice
1 1/2 oz Coconut Rum
1/2 oz Sour Mix
1/2 oz Lime Juice
pinch Chili Pepper
Shake all ingredients with ice in a cocktail shaker. Strain into a chilled cocktail glass and serve.
photo from svenwerk
---
POMEGRANATE: NO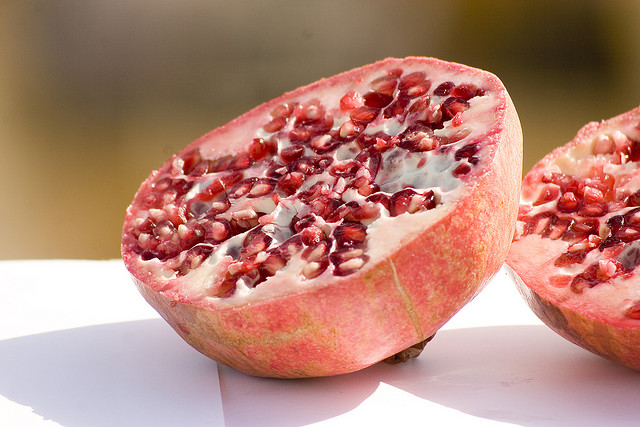 There was a study done by Queen Margaret University in Edinburgh that linked pomegranate to decreased cortisol levels. Lowered cortisol levels are linked to an increase in testosterone – which links to an increase in sexual desire. This one is a stretch – plus the study was funded by Pomegreat…so..
Another study by the Male Clinic in Beverly Hills, CA determined that pomegranates may help cure mild to moderate erectile dysfunction issues. So think of pomegranate as nature's Viagra.
DRINK RECIPE: Pomegranate Martini
2 oz citrus vodka
1/2 ozfresh lemon juice
1/4 ozfresh pomegranate juice
1 oz simple syrup
Shake all ingredients well with ice and strain into a chilled martini glass. Add a dash of rose water if available. Garnish with flamed orange peel, and serve. 
via Drinks Mixer
photo from Shai Barzilay
---
HONEY: NO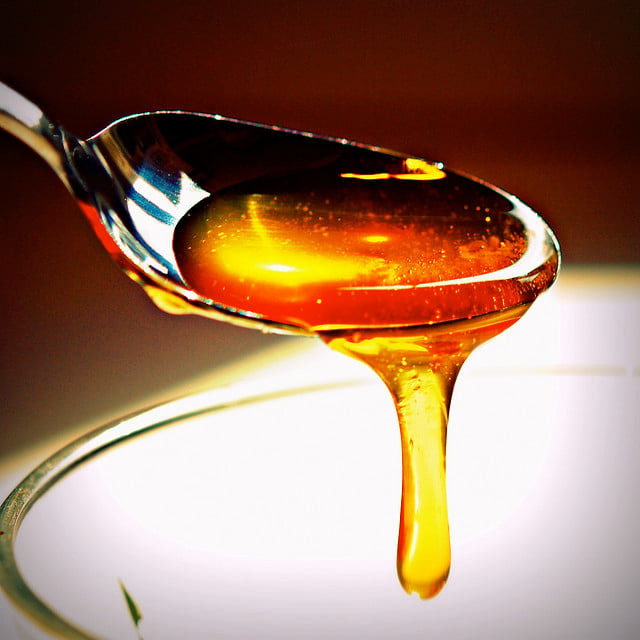 Throughout time, honey has always been linked to sex. Hippocrates, the famous Greek physician, was said to have prescribed honey for 'sexual vigor'. Honey's high concentration of B vitamins and boron lead some to believe it is an aphrodisiac because both lead to an increase in sex hormones. So, indirectly, it may be an aphrodisiac, but there is no direct correlation.
DRINK RECIPE: Brown Derby
2 oz makers mark
1 oz grape fruit fresh
3/4 oz  honey
Shake over ice and strain into cocktail glass.
via American Bartenders School 
pic from Rachel
---
CHOCOLATE: NO
There actually isn't anything scientifically that links chocolate to an increase in sexual desire. It does include the phenylethylamine (PEA) which is a stimulant that brings on happy feelings. However, the human body doesn't actually get enough PEA from chocolate to cause any significant increases in arousal.
DRINK RECIPE: Chocolate Chip Shooter
1 oz Amaretto
1 oz Creme de Cacao (White)
1 oz Irish Cream Liqueur
Shake with ice and strain  into 2 Shot Glasses
via American Bartenders School
pic from jacinta lluch valero
---
COFFEE: NO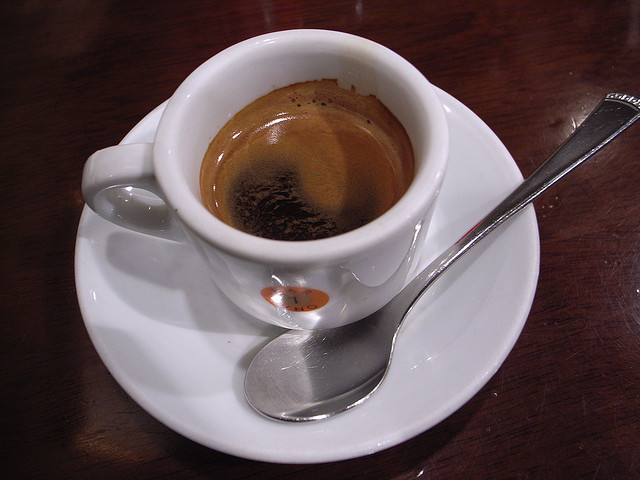 While there are no direct connections, coffee contains caffeine, which gets your blood flowing. Blood flow will definitely help with your sexual energy.
DRINK RECIPE: Irish Coffee
Teaspoon sugar
1 oz Irish whiskey
Fill with hot coffee
Top with whipped cream
Add all ingredients to mug. Enjoy!
via American Bartenders School
pic from Toshiyuki IMAI
---
CHERRIES: NO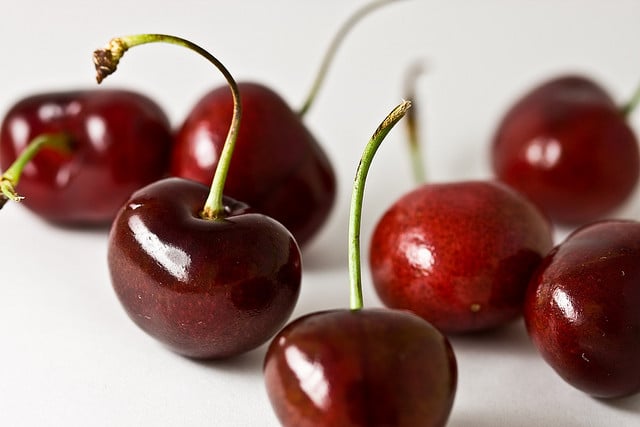 Unfortunately, a study done by the Smell and Taste Research Foundation found that the smell of tart fruit actually LOWERED the sexual arousal in women. However, here's an amazing fact – cinnamon buns turned out to be the sexiest odor.
DRINK RECIPE: Chocolate Covered Cherry Shot
(Why not combine a few 'aphrodisiacs'!)
½ oz Kahlua
½ oz Amaretto
½ oz White Creme de cacao
Dash Grenadine Syrup
Shake over ice and serve!
via American Bartenders School 
pic from Benson Kua
---
 RED WINE: YES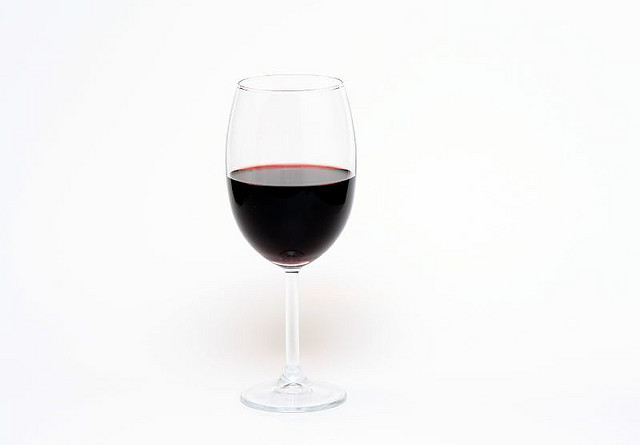 A natural antioxidant, Red Wine helps the circulatory system in men, which is great for sex. A small study done in Italy at the University of Florence has claimed that red wine did increase the sexual desire (and lubrication) of women. However, it was noted that this was a small sample size and should be expanded – so get drinking and report back to us!
Important to note, however, is that alcohol famously lowers sexual performance. Because it is a depressant, it decreases blood flow, which is important for certain body parts to function in the bedroom. So, know your limits people!
DRINK RECIPE: Head over to our page about wine to learn more.
pic from Rob & Dani
---
 STRAWBERRIES: NO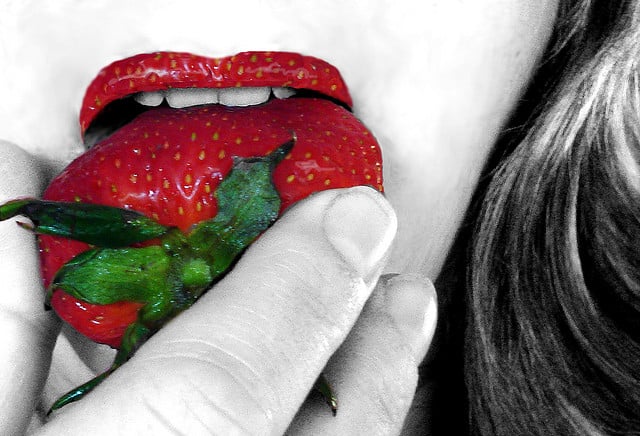 Strawberries are historically linked to fertility because of their abundance of seeds. They contain the highest amount of Vitamin C of the berries. They also include potassium and folic acid, all which can help blood flow and energy. That is the closet link to science.
DRINK RECIPE: Strawberry Blonde
1/2 oz Vodka
1/2 oz cherry schnapps
splash cola
splash cream
via American Bartenders School 
pic from Julie Falk