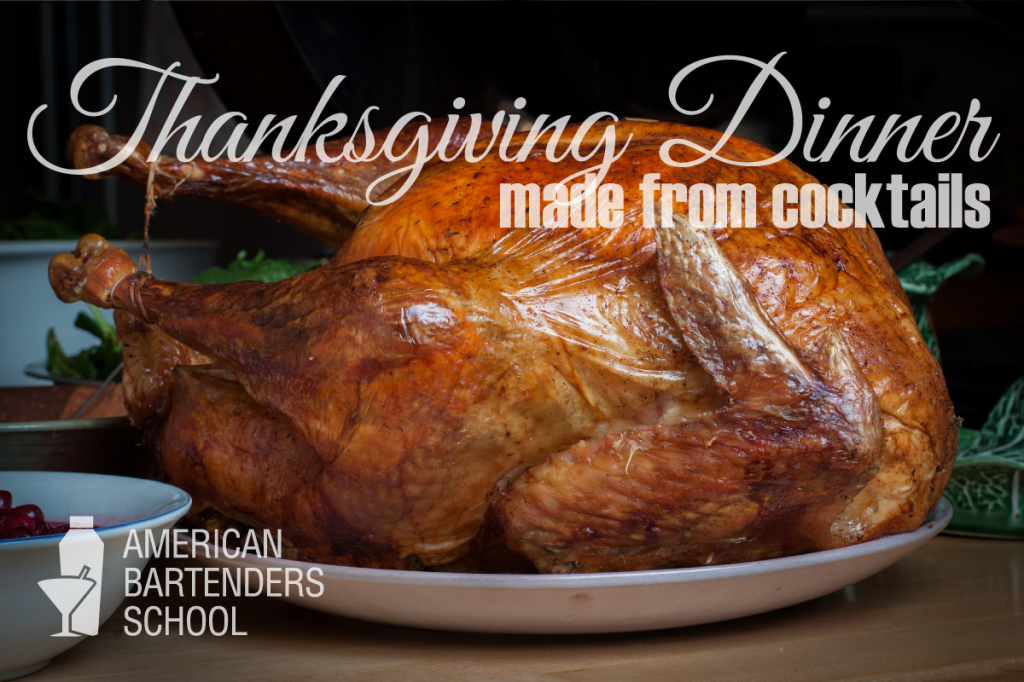 Thanksgiving is a time where everyone gets together with family to drink and eat until they can't drink and eat any longer. What if we were able to combine the drinking and eating? Remember that scene in Willy Wonka and the Chocolate Factory where Violet Beauregarde tastes the 'Three-Course Meal Gum"? This is essentially what we are going for in this post, except we are replacing the gum with cocktails.
STARTERS
Sweet Potato Casserole Shot via Sparqvault 
½ oz. pumpkin pie vodka
1 oz. Jim Beam bourbon
½ oz. Frangelico
In a shaker, with ice, blend the vodka and Jim Beam, and pour into a tall shot glass. Top with the Frangelico. Serve chilled, or while still cold.
Cranberry Sauce Jello Shot via FoodandWine
3 oz package of Cranberry Jello
1 cup boiling water
3/4 cup gin
1/3 cup Domaine De Canton ginger liqueur
Orange Zest
Mix Jello with boiling water until is dissolves. Pour in the gin and Canton, mix. Divide the mix into shot glasses and place in fridge for three hours or until Jello hardens. Garnish with orange zest and serve.
Or, if you're not in the mood for Jello…try this
Cranberry Kamikaze Shot courtesy the cookincanuck
Ice
1 1/2 oz. fresh lime juice
1 1/2 oz. cranberry vodka
1 oz. triple sec
1 oz. cranberry juice
Fill a cocktail shaker halfway with ice. Add the lime juice, cranberry vodka, triple sec, and cranberry juice. Shake well, about 15 seconds, to chill the mixture. Strain into a highball or martini glass for a single drink or, if you prefer, into 4 separate shot glasses. Garnish with a wedge of lime and serve cold.
MAIN COURSE
Turkey and Sage Cocktail from seriouseats
20 fresh sage leaves
4 ounces Wild Turkey 101 Bourbon
2 tablespoons pumpkin butter (see note above)
1/2 ounce lemon juice, from one lemon
4 dashes Angostura bitters
Reserve two sage leaves for garnish and muddle the rest gently in a cocktail shaker. Fill the shaker with ice. Add bourbon, pumpkin butter, lemon juice, and bitters. Shake until well-chilled, about 20 seconds. Strain evenly into two coupe glasses and float a sage leaf on top of each drink. Makes 2 cocktails.
Ham Cocktail also via seriouseats*
note – prep time for this one is two weeks. so get to work!*
Iberico (Pata Negra) ham leg
1.5 liters of Hennessey VS Cognac
 Infuse an Iberico (Pata Negra) ham leg in 1.5 liters of Hennessey VS Cognac for a two weeks, covered and refrigerated.
DESSERT
Pumpkin Pie Shot via hotbartendersla
1/3 oz of Kahlua 
1/3 oz of Bailey's 
1/3 oz white tequila 
In a shot glass carefully layer Kahlua on the bottom, Bailey's in the middle and the white Tequila on top. Sprinkle Cinnamon on top and shoot it!
Chocolate Chip Cookie Shot via popsugar (modified by us)
This one is not necessarily an alcoholic shot, but it is served in shot glasses that are actually edible chocolate chip cookies – so it will definitely turn some heads. (Plus, we recommend adding a little Baileys and Whiskey to the shot to make things interesting.)
Cookies:
1 cup shortening
1/3 cup granulated sugar
1/2 cup light-brown sugar
1 large egg yolk
2 teaspoons vanilla extract
2 cups all-purpose flour, sifted
1/2 teaspoon salt
1 cup mini chocolate chips
Cookie shots:
1 cup dark-chocolate candy melts
4 oz Baileys (optional)
4 oz Irish whiskey (optional)
Preheat oven to 350°F. Grease the molds of a 

popover pan

.

In a large bowl, cream together the shortening and brown and granulated sugars. Add the egg yolk and vanilla extract, and mix until completely incorporated. Gradually add the flour and salt, and mix until completely incorporated. Add the mini chocolate chips, and mix together until evenly distributed. The dough should be a little crumbly at this point.

Form the cookie shots inside the molds, making the walls of the cookie shot about 1/4 inch thick. Chill for 20 to 30 minutes before baking.

Bake for about 20 minutes or until the cookies just start to brown. Remove from the oven, and let cool completely.

Melt chocolate candy melts, and then pour the melted chocolate into the well of each cookie. Let it sit for a minute, and then pour the excess chocolate back into the pan. Chill cookie shots until the chocolate has set.

Mix together Baileys and your choice of Irish whiskey (our addition) and serve inside each cookie shot.
Thanks to Tim Sackton for the Turkey pic!