This is a variation of the original Red Headed. Although the names are similar, the ingredients are totally different. The only thing that is similar between the two cocktail drink recipes are the names. This drink is an example of a shot or shooter type. It's meant to be gulped down with one swallow. It will appeal to a younger crowd who like their drinks strong and sweet.
Dirty Red Headed Slut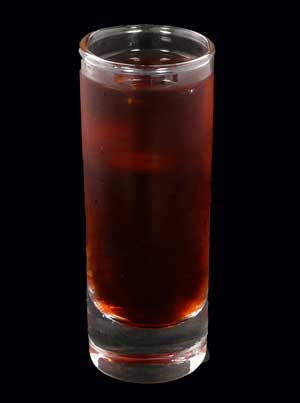 1 oz American Whiskey
¾ oz Chambord raspberry liqueur
¾ oz Southern Comfort
Shake with ice and strain.
You may use any of these glasses. Large shot glass, rock glass with no ice, or stemmed cocktail glass. The choice is yours.
If you like this shot, then you'll love our complete list of every candy-flavored shot and cocktail.
Click here to learn how to make every type of candy cocktail!

Want to know what Jennifer Lawrence and other celebrities love drinking?
Check out our list of 80 celebrities and their favorite cocktails!