Bartender License: The myth, the legend. Do I need really need one?
We here at American Bartenders School feel the need to help clarify some misconceptions about bartender licenses and bartending certification for NYC bartenders. First off, there is no such thing as a required bartender license to work at any bar in New York City. Once again, there is no such requirement by law that requires bartenders to have a bartender license in NYC. So, where does the confusion come in? Why are some people calling it a scam?
There are so many internet articles out there about this topic that it's hard not to get confused. Every bartending school says something different about bartending licenses or bartending certificates.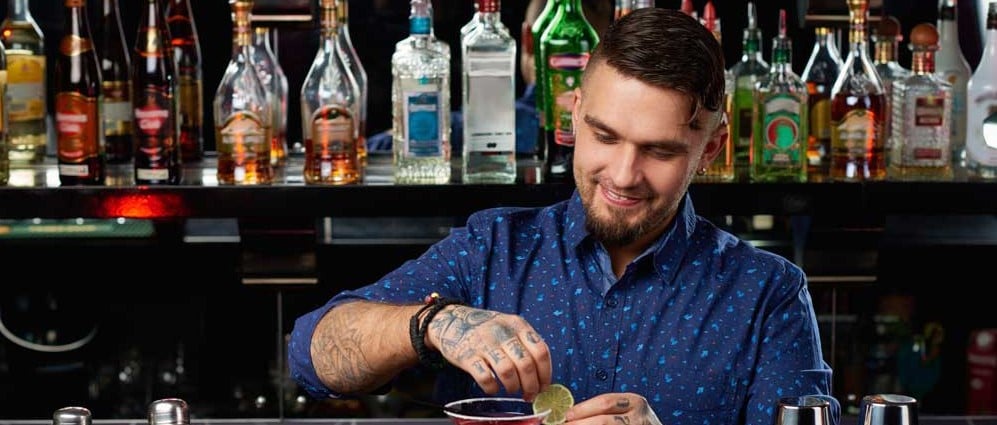 A certificate saying that you passed the bartending course is great and looks great on a resume. All bar managers will want to see that you have gone to bartending school, especially one as established as American Bartenders School. This gives you an immediate leg up on the competition and get you making money quickly. It proves that you are knowledgeable about liquor, beer, and wine. It proves that you can make many different kinds of drinks and that you know how to set up a bar. These are important things that bar managers want to see. But, once again, a bartending certificate or bartender license is not a requirement in New York State.
What most bartending schools are referring to when they say you need to get a bartending certificate or bartending license in NYC (unless they are flat out lying to you) is a license or certificate in alcohol awareness.
Bartending Certificate or Alcohol Awareness Certificate?
Some bars or restaurants require their servers to take certain alcohol awareness programs that make them knowledgable about the amount of alcohol they are serving to customers. These are not required by law, but can certainly help bar owners legally as well as yourself. Having employees who have taken these awareness programs protect their establishment against lawsuits, and also to help protect their customers from lawsuits. Anyone can serve drinks all night long, but knowing how to gracefully turn away a customer who has clearly had too much to drink is a skill. It can also save a life. More on this a little.
So, bartending schools often offer these types of alcohol awareness programs within their own class. This gets a student certified or licensed in whichever alcohol awareness program the bartending school decides to employ. So, not only do you get a top-notch education on how to prepare, mix, and serve drinks to your customers, but you also get the certified in a particular alcohol awareness course within your bartending class. It is like taking an extra college course or summer school course to bolster your resume.
So, it is not mandatory to have a bartender certificate or bartending license from these alcohol awareness programs, but a lot of times, bar owners prefer it if you do have one.
New York State Liquor Authority
Still confused? Let's start at the top, with the New York State Liquor Authority. In 1933, FDR repealed the 18th Amendment which was Prohibition. Now that alcohol was legal again, the government wanted to make sure that they had strict control over it. In 1934, New York State created the Alcoholic Beverage Control Law – which also created the New York State Liquor Authority (NYSLA) and the Division of Alcoholic Beverage Control. These are the folks that keep an eye on bars, liquor licenses, and other alcohol-related things in NY State. They are like the IRS of the liquor industry.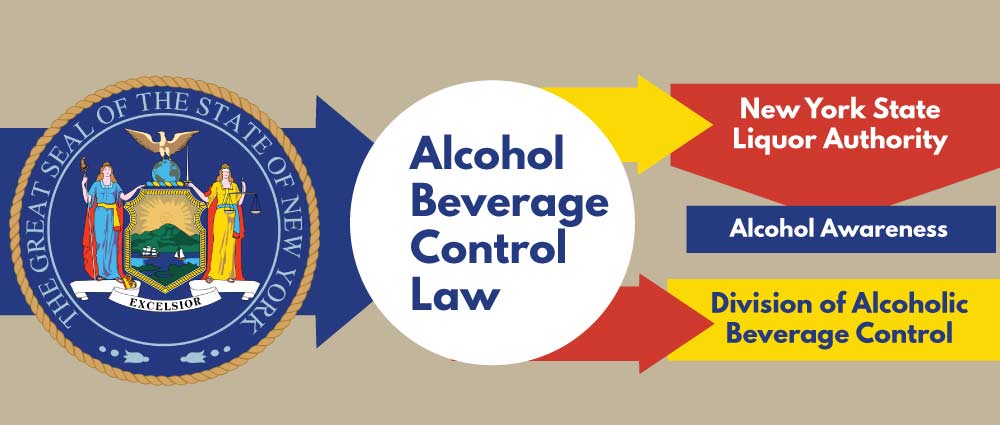 According to Wikipedia, the NYSLA  "determine(s) whether public convenience and advantage will be promoted by the issuance of licenses to traffic in alcoholic beverages … and to carry out the increase or decrease in the number thereof and the location of premises licensed … in the public interest." These were all measures to keep the public happy after repealing Prohibition. The government wanted to appear in charge of the situation and very strict in their alcohol policies. A lot of the same old laws created back then are still in effect to this day. One of their laws put forth that you should be very familiar with is that officially, the service of alcohol in New York State is prohibited from 4am to 8am.
With the public in mind once again, the NYSLA also created the Alcohol Awareness Training Program.
Liquor Liability
Bartenders and servers of alcohol need to be aware of state laws involving serving to overly intoxicated people. Some bar owners purchase Liquor Liability Insurance to help cover them, but insurance companies often tell bar owners to also get their workers trained in an awareness program of some sort. The reason being that someone could conceivably leave the bar intoxicated and then get hurt or worse killed. There are actual laws that govern over these types of cases, known Dram Shop Laws. The laws vary from state to state, but are very important.
Under NY state's Dram Shop Law, a bar can be held civilly liable if it serves alcohol to an obviously drunk person. However, according to Wikipedia, "NY will not allow a person who injures themselves to bring a lawsuit against the bar that served them, but if that person dies will allow such a person's children to sue the drinking establishment for loss of parental consortium."
So, getting trained in alcohol awareness can help protect against these sticky situations. According to National Hospitality Training, "The New York State Liquor Authority (NYSLA) will consider training a mitigating factor if, at the time of violation, the person who committed the violation held a valid certificate of completion or renewal from a certified alcohol training awareness program provider and the licensee diligently implemented and complied with the training program."
ATAP
While New York State has no required programs, it does have a voluntary responsible vendor program called Alcohol Training and Awareness Program (ATAP). This is regulated by the NYSLA. It offers certification courses, conducts informational seminars, and helps certify schools to provide ATAP (Alcohol Training Awareness Program) training. Their goal is to "provide a safe environment at licensed establishments as well as preserve the health, safety and welfare of the citizens in our communities." It also helps owners comply with Alcohol Beverage Control Laws.
TIPS
TIPS is a national alcohol serving training program but is approved by the ATAP and NYSLA as well. This differs from ATAP in that you must work for TIPS in order to teach the class. It was created in 1982, by Dr. Morris Chafetz, founding director of the National Institute on Alcoholism and Alcohol Abuse and author of Big Fat Liars.
ServSafe Alcohol
ServSafe Alcohol is another popular program from the National Restaurant Association that teaches bartenders and restaurant workers to serve alcohol in a responsible manner. ServSafe also teaches classes about foodborne illness, food sanitation and other safety practices for preparing and serving food.
So are their any law requirements to being a bartender in NYC?
To sell or serve alcohol in NY state you must be 18 years of age. Anyone else, like a busboy or dishwasher that is going to handle containers that hold alcoholic beverages can be under 18 but must be supervised by someone that is 21.
Our class is open to anyone over the age of 18 – you don't need to be 21 to take our class.
Diplomas! Diplomas!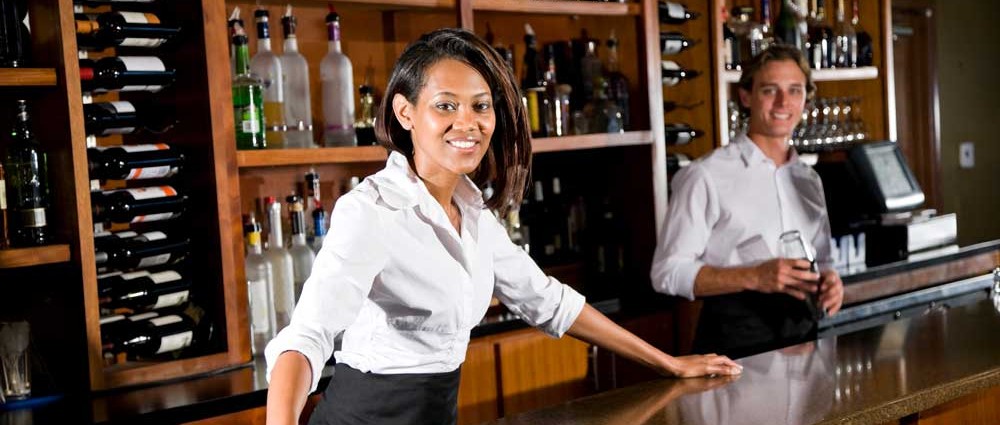 Your diploma from American Bartenders School will certify that you have been fully trained and tested in every phase of bartending. This is the only certification necessary for you to start working as a bartender. Showing them a diploma from American Bartenders School ensures a bar manager that you know the following:
The 40 hour certification class includes:
Mixology training by licensed instructors that helps to ensure that you learn all of the drinks required to effectively handle a commercial bar. We make sure you can pour accurately, multi task, handle cash and up sell to boost profit for the bars that employ you.
Liquors and Ingredients – During this section of the training, students learn about the products they work with to create great tasting drinks. Flavors and mixability are discussed along with the quality and price points of ingredients.
Customer Service – Students learn how to give efficient and courteous service. Good service equals better tips, which will put more money in your pocket.
Alcohol Awareness – You learn to serve alcohol with care and to control any risks effectively. Many owners require bartenders to have this training before allowing you to get behind their bar.
Interviewing Techniques and Resumes – You will learn how to successfully interview for a bartending position. Students learn how to fill out an application, resume preparation, how to dress and answer interview questions.
Wine Basics – Popular regions and varietals, opening wine the proper way, glassware and other facets of service etiquette are discussed.
Beer Basics – Keg tapping, proper pouring, import and domestic products, beer system maintenance and beer production is covered.
This is everything a bar manager could hope for out of an employee and a great way to show that you are more than prepared for a job in bartending.
Sign up today! And remember there is no bartending license NY actually required for a bartending job.