American Bartenders School FAQ
Q. How much do bartenders earn?
A. Bartenders earn a salary and tips.  According to national surveys, a bartenders salary with tips averages $50,000.  The amount of money bartenders earn depend on three things. Their customer service skills, the number of customers they serve, and if they like dealing with the public. It's estimated that over 75% of the people who order drinks tip the bartender.  Many graduates earn up to $150-$300 daily.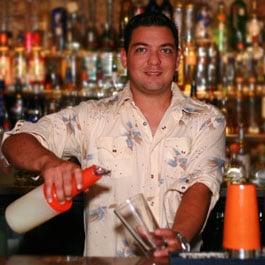 Q. Do you use real liquor in the bartending school?
A. No, but all the liquor is simulated to look and pour like real spirits.  During the bartending class students are amazed at how real the drinks look.
Q. If you don't use real liquor, how do you know how the drinks will taste?
A. All ingredients are measured. Measuring ensures consistency in drinks.
Q. What happens if I can't make the hours of the class because of a scheduling conflict?
A. Special schedules can be worked out.
Q. What happens if I can't learn it all in 1 or 2 weeks?
A. Don't worry. You can stay as long as you like, at no additional charge. We want you to be totally confident in your bartending skills.  You can take extra classes and practice free.
Q. How soon can I get a job after graduation?
A. It depends on your motivation. Some students are out interviewing for jobs while attending class and have already lined them up by the time they finish.
Q. Will the school help me find a job?
A. Our excellent job placement service will help you find a job and is free to graduates for the rest of their lives.
Q. Will the bartending school help me find more than one job?
A. Yes, as a graduate you can use the placement service whenever you need it.
Q. What is the difference between your school and others?
A. Experience, reputation, and results. We urge you to visit one of our schools first to see why over 100,000 men and women have chosen our school over all the others. One 20 minute visit will show what the difference is.  We are the nation's oldest, largest and most experienced bartending school.  We are constantly rated the best bartending school by national organizations.
Q. Do I need a license to bartend?
A. No, you don't need a license to bartend.  Some cities require bartenders to complete an alcohol awareness class.  You'll receive this certification at the completion of training.
Q. Do I need to be certified to bartend?
A. Your diploma from American Bartenders School will certify that you have been fully trained and tested in every phase of bartending.  This is the only certification necessary for you to start working as a bartender.
Q. What is the difference between a bartender and mixologist?
A. Many bartenders don't know why they do things when making mixed drink cocktails.  They are simply following a recipe.  A mixologist is a bartender who understands why specific things are done or not done to make great tasting drink recipes. This knowledge allows a mixologist to perfect great new drink recipes.